'In The Middle Of Hope' is the latest release from Mike Montrey Band and what a dynamite job overall on this 6-song set! This new record is chock-full of promising & optimistic messages, which we could all use right now! This album offers plenty of heart, soul and fine musicianship all around.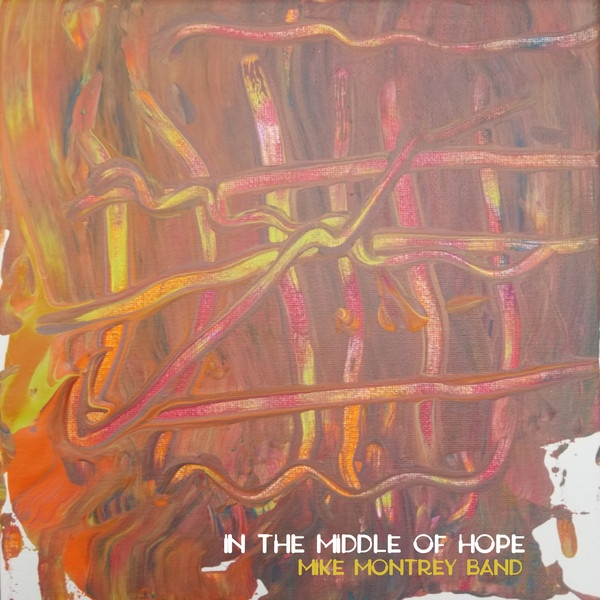 The group is made up of: Mike Montrey as lead vocalist, guitarist and songwriter, Jen Augustine on vocals, Anthony Duca on bass, Phil Silverberg on keys, Jack Stanton on pedal steel guitar and Andy Meyer on drums. Together, Mike Montrey Band blends together elements of folk, rock & country that equates to one fun, Americana mix! 'In The Middle Of Hope' is everything you could want in an album offering up catchy & hopeful songs.
The record starts up with "Spirit of Youth" that provides a cool, easy-going flow where Mike Montrey even expresses that "I need to unwind". "Spirit of Youth" has a very appealing style and performed with much conviction as Mike Montrey says it is "cleansing my soul." The next song, "Victoria", has the melody and harmonies in sync as Mike Montrey Band delivers a commanding performance. Track three, "Tell Me You Love Me", is a lively number with plenty of warm vibes surrounding your eardrums. Moving along, we hear a flavorful jam that's full of spirit, so get ready to head on down to "New Mexico". Time to get down and get "Ready To Fall" in what comes across as just a good ol' time! The final song, "Statues And Saints", is such an inviting tune that pulls you in and doesn't let go from beginning to end.
This latest project from Mike Montrey Band was recorded at GD PonderRosa studios in Lafayette, NJ by Tom Askin and all lyrics & songs written by Michael Montrey. It's worth noting that NJ Stage named Mike Montrey the Top Male Artist of 2018. With a sense of uneasiness engulfing our Nation today, 'In The Middle Of Hope' is a very fitting title and perfect timing if you ask me. We could all use a nice, healthy serving of Hope to help in our daily lives. And if we are stuck right 'In The Middle Of Hope', then that's not such a bad thing at all. I highly recommend taking a listen to Mike Montrey Band as this talented group of artists goes all in and comes out on top 'In The Middle Of Hope'. COME ONE, COME ALL!
By J Rae