The first few seconds of "Transmission" by Hemisphere sounds like the beginning to Bruce Springsteen's "Dancing in the Dark." It has the pop sheen that Springsteen created in the '80s while taking a break from the E Street Band. However, after an extended synthesizer part, the vocal kicks in – and it's not at all that gruff singing sound of The Boss. No, that vocalist would be Rob Shinno, guitarist, lyricist, and vocalist for Hemisphere.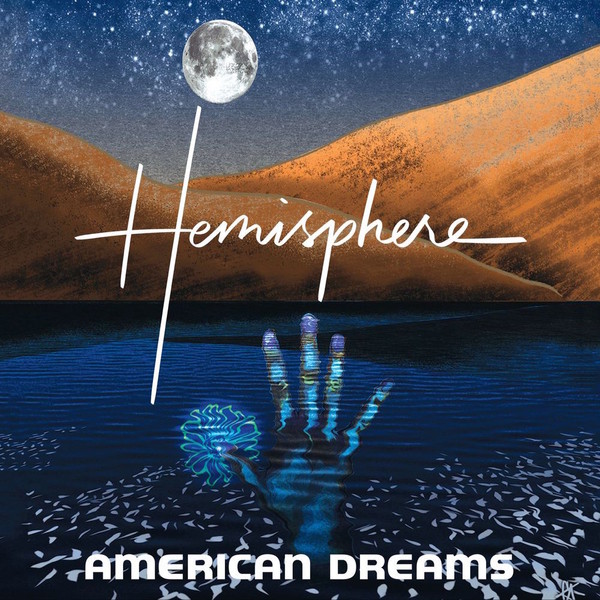 His first line is "Too many nervous people." Immediately, in this age of COVID-19, everybody can relate to these words. We're all sheltering at home, only to venture out rarely, and whenever doing so, wearing a protective mask. Yes, we are all nervous people. The song's title could also easily refer to the pandemic, as all of us are concerned about the virus's transmission from one person to another. This is probably not what Shinno is singing about, however.
Spotify Pre-Save Link:
https://show.co/iDbkYNI
The keyboard solo that comes next sounds more jazz than synth-pop, though. Shinno says his two favorite guitarists are Brian May and Pat Metheny. And there is a lot of musical variation expressed in those two names. May is, of course, the guitarist for glam-metal band Queen, while Pat Metheny is a jazz guitarist, who makes music that is far more atmospheric than most stereotypical jazz. He's not really a guy you would say 'swings,' particularly.
"Sometimes I get confused/Transmission/Hard to understand," Shinno announces following the instrumental section. This suggests what we have here, is a failure to communicate. Messages sent, aren't always fully understood once received. It's common knowledge that communication, and lack thereof, is one of the biggest problems in troubled relationships. We always assume another person knows exactly what we're saying and understands precisely what we need. Yet, all the while, that other person may be struggling just to make sense of our needs. When it comes to communicating with another person – especially a romantic partner – we can never assume our messages are getting through clearly. Instead, it never hurts to double check and make sure what we said, is what that other person heard. To go forward, assuming all is well communicated, can lead to relationship disaster.
About one minute into the track, what sounds like NASA communicating with a space vehicle, or air traffic control talking to a pilot in a plane, can be heard. This suggests speaking in code for brevity. These types of communicators don't have all day to chit chat, so they have to make it short and sweet. This, though, is not the best way to talk with a lover. One really does need to take a little time, taking it slow and making sure messages are clear.
https://www.facebook.com/Hemisphereband/
Transmission of our messages are what we are all about as humans. We want the opportunity to speak, and we need to be heard. Although Hemisphere's song may not have such a wide scope, communication – all communication – is essential to human thriving. The song ends with an extended electric guitar solo, which is mixed along with spacey radio sounds. All these elements support the song's overall aim. Whether over the airwaves or over coffee at a Starbucks, everybody is almost desperate to transmit what is most important to them. Transmission is an essential.
-Dan MacIntosh