Russ Still and The Moonshiners hit a country music home run out of the park on "It Ain't Me," and I haven't heard of them until now. It was a case of; where has Russ Still been all this time, and since that was the case for me it's also a chance to catch up with his previous works. Russ Still is an artist with a long story, but now just playing music for the love of it and whoever sees and hears it and his band from Alabama, which this single leads in before the upcoming – Goin' Alabama CD.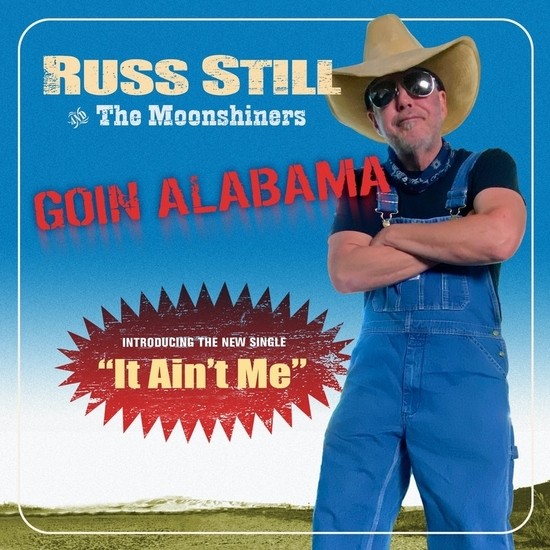 If you do not know who Still is, you can get some in depth background and his website, where you will also find where his head is at and the foundation of his musical mission. "It Ain't Me" is a cool hit song co-written by Keal Franklin and based around the blame game we see happening more and more in society as of late. If you want to blame someone, it is not going to be Russ Still, and it's not going to be anyone that is truly not at fault. The lyrics are of no complexity whatsoever, and straight forward along with the music.

It's worth it to give the artist their due anytime I see it, and Stills gets his props here, along with his players. This isn't some new comer on the block and no stranger to the scene, but in my discovery it should be pointed out that he's at least a well-kept secret to me. The important thing is I like what I hear, and the artist is to actually blame for something after all. Everyone in the band also check out to make it an all round affair and not just a solo outfit and it's not only country music.
The first few bars of "It Ain't Me" and it is pretty much over, but each verse only helps to seal the deal. Uncle Joe is the main character of the song in which Still tells its story about folks raising hell since the dawn of time. I really like this song and the way it grooves along with the sort of excellence that country songs used to be made more of than not. The blend of rock and Americana give "It Ain't Me" just the right balance to make it a modern country music smash anyone can enjoy.
The guitars are clean and smooth, the voice of Stills perfectly gritty and the songwriting is second to none, which is why it comes as a surprise to me having not heard anything by this band before. I'm glad to be turned onto what is a great band and solo artist at the helm. This is a song you can't write unless you've lived the life to tell about it, but sometimes it can be pulled off. Not when it comes to Russ Still and The Moonshiners, "It Ain't Me" is a classic because it comes from its own roots.

Gwen Waggoner