"I was born on the south side of Chicago, Il. but moved to Los Angeles as a young child. My father remarried and moved to Calumet City, IL which is how I came up with the band named 'Calumet". I grew up in Inglewood California where we moved in 1978. It was just my Mom and I back then so she taught me how to ride the RTD bus to school when I was 6 years old! ~ ET Mobley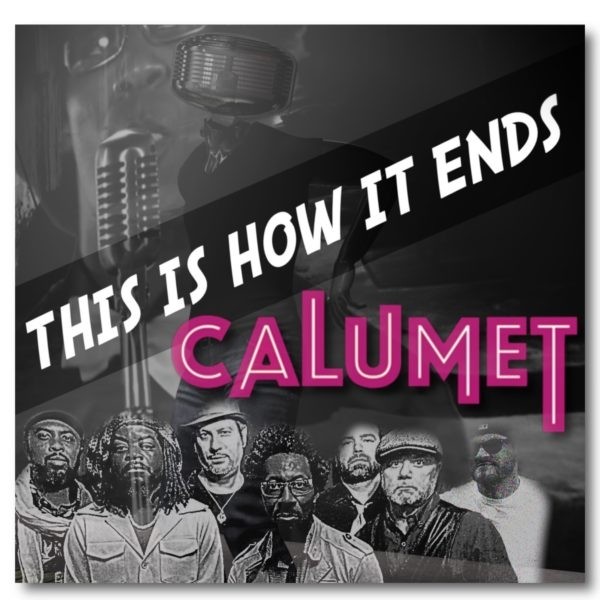 The band Calumet was formed in Phoenix, AZ by Eric 'ET' Mobley (vocals/keys/guitar) and Jason 'JJ' Mitchell (guitar/bass/vocals) in 2001, with Ian 'Eon' White (percussion) and Brandon Amos (drums). Over the next two years the lineup would change to include Chris 'Basshead' Starks and Joel 'Boodat' Phillips. Originally a funk and soul cover band, Calumet began writing its own material soon after forming. The band got its start playing barbeque joints, parking lot festivals, and pool halls for a couple of years in Phoenix, Tempe, and Scottsdale, Arizona.
In 2002, the band released their debut album, 'Retro Energy' and played shows around Arizona, including Martini Ranch, Livingston's, and numerous other nightclubs and restaurants. During the next 7 years, a number of the Valley's best musicians, including Marvin Scott, performed in Calumet. The band featured at clubs and festivals, and landed opening spots for Al Green, Kool & the Gang, and George Benson. Two more albums were released, 'The Musical Brothers of Calumet' and 'Rock Soul Funkateers' before the band went on hiatus in 2009.
Calumet was reborn in 2018 with Eric and Jason reunited. They brought in early band members Ian White (percussion) and Marvin Scott (sax/flute), as well as new faces Jeff Pivin (drums), Rich Cross (trumpet/flugelhorn), and Josh Prior (bass/guitar/vocals).
They released an EP in July of 2019 'It's What You Do' and a new full album in June of 2020 along with frequent new singles throughout 2020. Some shows they had before the pandemic include 2019 New Year's Eve at the Phoenix Block Party, The Scottsdale Culinary Festival main stage, The Flying Burrito Festival, plus club dates at Kazimierz, Valley Bar, Cactus Jack's, Wasted Grain, Crescent Ballroom, and Copper Blues.
The band has made its reputation over the years playing a mixture of classic funk-inspired grooves with its original sense of arranging and subject matter. Elements of rock, blues, jazz, Latin, and gospel have found their way into the music, and Calumet is always expanding their sound. Jason 'JJ' Mitchell explains: "We don't like to repeat ourselves, and we look for variety in everything, including tones, keys, lyrics, and arrangements."
Calumet's new album of original material, 'Life in Transition', was released on June 1st 2020. 'This is How it Ends' takes inspiration from Sly Stone's 70's work, with a slammin' old-school bassline and anthemic chorus. The video offers a dystopian view of where we could find ourselves in a short time. The boys in Calumet draw from a deep well of inspiration, blending everything that's made an impact on them into a new body of work, suited to these times.
Diana: How did you end up bringing your funk to Arizona?
ET: I brought the FUNK to Phoenix, AZ because it was instilled in me as a child through my parent's extensive record collections. My God Father Jimmy Jones who was studio/session musician from Chicago, also had a huge influence in my early exposure to jazz, Funk & soul music. He would let me play the tambourine in his Funk band in the mid 70's at the age of 4! Along with a deep passion for singing, I love the challenge of being a multi instrumentalist.
Diana: You mention that Sly Stone was a big influence on 'This is how it ends'. Who else were big influences on you over the years?
ET: My influences are: Sly & The Family Stone, Graham Central Station, Curtis Mayfield, Ohio Players, Funkadelic/Parliament, Gil Scott Heron, DJ Rogers, Jackson 5, Marvin Gaye, Leroy Hutson, Donny Hathaway, Kool & The Gang, Average White Band, Tower of Power, Bootsy Collins, James Brown, Steely Dan, Pink Floyd, Jimi Hendrix, Isley Brothers, Earth Wind & Fire, The Dramatics, Donald Byrd, Black Byrds, Mizell Brothers, Bobbi Humphrey, David Bowie, Bob Marley & The Wailers, Herbie Hancock, Bee Gees, Beatles, Eric Tagg, John Klemer, Red Bone, Bobby Womack, Willie Hutch, Heart, John Lennon, Paul McCartneyWings), Santana, BB King, Motown, Chicago and Al Green.
Diana: What new projects are you working on during the pandemic?
ET: During the pandemic, Calumet released a new album called 'Life In Transition'. However, the band is currently recording several new originals in which new singles are being released such as 'This Is How It Ends'. Another full album will be released upon the completion of these recordings.
Diana: Of all the things you have recorded and/or written what song is your favorite?
ET: It's hard to choose which tunes I've written in the past or present as being my favorite. In addition to any songs written by other band members. Each song has a different affect on me, and I've learned to appreciate them all individually for what they offer.
This summer with the nation focusing on Black Lives Matter and cries for police reform a number of artists have found inspiration in creating music to express how they feel. One of those incredibly creative artists is Eric 'ET' Mobley and the band 'Calumet'.
Steeped in funk, Calumet has produced some of the best grooves I have heard in a long time. The video 'This is How it Ends' evokes many different emotions in me. It makes me smile, makes me angry and then brings me back to pure funk with the heavy sweet bass playing of Jason 'JJ' Mitchell. I feel an old school funk beat in their music but after seeing the new video I believe this band has exploded into the ultimate sound of the future. ~ Diana Olson