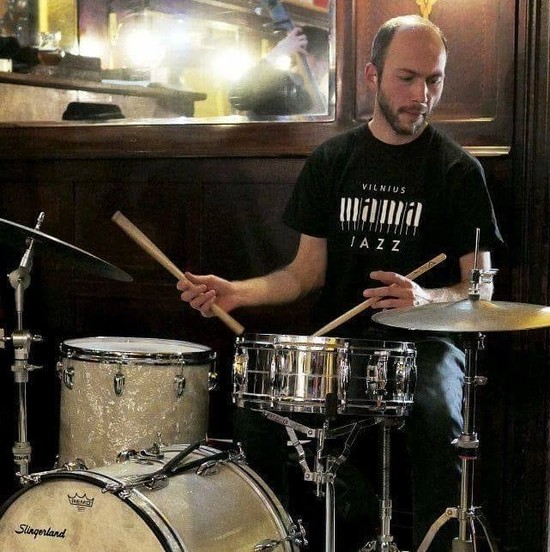 by Nick Christophers
It is with great work that results usually come. This would be the case for Russian born drummer Ilya Dynov. Ilya has created a name for himself from Belgium to Germany to the dusty streets of Brooklyn, New York. He studied musical education in Belgium and built a following there and then moved to Berlin, Germany and made his second home. While in Germany he performed as a soloist and became a regular at certain venues. This enabled him to branch out and share his talents in countries like Portugal, Czech Republic and Austria.
Before coming to New York IIya played not only the drums but the vibraphone and percussion, and did solo performances with orchestras and chamber music projects while in College where he earned a Masters in Arts Degree at the Royal Conservatory of Music, Word and Dance. His style has switched to playing jazz, afrobeat, funk and other styles of music since being in New York. Just prior to coming to New York he did a club tour across Europe with a band he met in Germany called Niogi which is an Israeli electro-acoustic band. They played a few festivals like the Bohemia Jazz Fest in 2016. There style of music leans towards the style of the ECM-label. Other festivals Ilya has played at were Vilnius Mama Jazz Festival Lithuania, Internationales Jugend-Musikfestival, Germany, Sfinks Mixed Festival Antwerpen, Belgium and Landjuweel Festival, Belgium.
Ilya has offered his talents to more than one group over his career like Ilya Dynov Group, MicroCorgi band and the Bracket Percussion Ensemble (basic member). In New York he founded the band MicroCorgi which consists of the Andrew McGowan from New Orleans on keys, Yuto Kanazawa from Japan on guitar and Ilya on drums. The band has no bassist the pianist plays the bass on a MicroKorg with the left hand, while using the other hand on the piano (or keyboard). This is where the name was derived from.
"All three of us are leaders of the band, so we work in collaboration and we can play whatever we like! All of us also compose for the band. Since we come from different countries and backgrounds, with a mutual love for jazz music we created a unique style, that represents all of those features. We decided to describe the band as a minimalist electro-funk band that plays music from outer space and the future."
Ilya has performed in numerous venues across the US yet two venues have seemed to stick out in his mind. One was the FatCat a jazz-club in New York and the other was the Gasa Gasa in New Orleans. The later actually was special for Ilya since that was where he presented his band MicroCorgi. He mentioned how the Gasa Gasa had a special vibe about it that generated inspiration in the members and made it a memorable performance. He has also played at the 55Bar and the Bar Next Door in New York. He has also performed with acclaimed orchestras and ensembles including "Orchestre Royal Philarmonique de Liège", playing major venues including the Musikverein Vienna, Austria; Salle de Philarmonie de Liège, Belgium.
Currently, he is gearing up with the band MicroCorgi to release their debut album in November 2020. The album's title is "MicroCosmos" the project has nine tracks which each member wrote three songs for the album. The album consists of a variety of genres from funk, European jazz, fusion to almost a rock-inspired song with vocals. It is not strictly an instrumental project as they used vocals and a vocoder next to the microKorg, acoustic piano, guitar and bass. Besides releasing this debut project during the pandemic, they laid down 8 new tracks as a trio then cut 7 more including a trombone player. After mixing and mastering them they are looking to release another album at a later date. Ilya himself has joined forces with master guitarist/vocalist Kaleta (Leon Ligan-Majec) and recording songs and rehearsing new music. Ilya has a lot on his plate and will keep up beating that drum and bring great music to the masses.