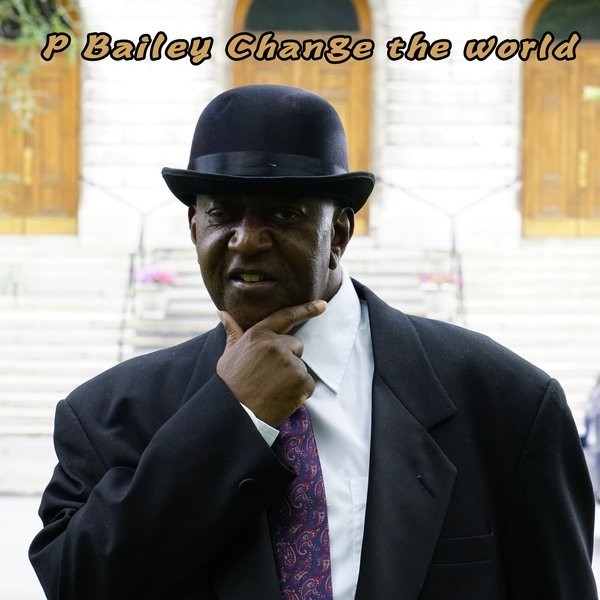 P Bailey's strong, heartfelt vocals radiate with a crystal clarity on "Change the World EP". A colorful blend of R&B, pop, and soul blends together into a blissful mix. The way he crafts his work feels highly reminiscent of an updated Motown spirit. Done with such love and care, his lyrics possess a tremendous amount of optimism. Layer upon layer of sound intermingles in the vast tapestry of sound. Grooves run through adding punctuation to the sheer power of his words. Narratives emerge over the course of the EP telling tales of rising above one's circumstances to find a sense of hope and purpose.
4 Songs – Audio:
https://www.reverbnation.com/pbailey/song/32141098-p-bailey-change-the-world
–
https://www.reverbnation.com/pbailey/song/32115599-p-bailey-whats-in-your-heart-re
–
https://www.reverbnation.com/pbailey/song/32115685-p-bailey-melody-re-edit-mix
–
https://www.reverbnation.com/pbailey/song/32115564-free
Beats hit hard on the fanfare of the title track "Change the World". Here there is a clear pop influence, judging from the carefully sculpted bass line that worms its way through the infectious melodies. Things slow down for a meditative take on the grandeur of the piano-led "What's In Your Heart". Sung with such fire and passion, the track proves to be the highlight of the EP, as the piece soars with a symphonic glee. Classically inclined "Melody" builds and builds itself into a virtual wave of sound washing over the listener. So much sheer kinetic energy defines the powerful, defiant blend of "Free". Here there is a strong sense of purpose of trying to accomplish one's dreams.
Teaser full video and EP Dropping in October:
https://www.facebook.com/1PBailey/videos/463940007895133/
"Change the World EP" shows off the impeccable skill and care of P Bailey in creating a world that feels distinctly his own.
https://www.facebook.com/1PBailey/