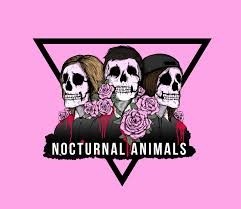 The rumbling of the bassline that first greets us in the first few moments of Nocturnal Animals' new single "LHW" is definitely as menacing an element as they come, but in all actuality, it's far from the most carnal of components within this song. There's a youthful rebelliousness to the very rhythm of the music as we hear it start to pour from the speakers, alluding to a rock n' roll past that wasn't nearly as self-conscious as today's sound has unfortunately become. Nocturnal Animals already come off like a band on a mission to save their genre from its own commerciality in this track, and we aren't even into the first appearance of the chorus (a rarity in most any style of music these days). 
URL: https://www.triplejunearthed.com/artist/nocturnal-animals-0
Though I won't call it a hook-driven piece of material, you'd be hard-pressed to find another rock tune quite as heavy as "LHW" that also bears the kind of pop swagger it does when its chorus comes crashing into focus. We're not prepped for the swell of distortion, much as it would have been in a proto-alternative jam released all the way back in the 1980's, but when it drags us asunder with the churn of the riff, it isn't nearly as overwhelming as it initially feels like it's going to be. Self-control is a major element in what makes Nocturnal Animals anything but a tribute act, and if you're unclear on what I mean by this, I'd encourage you to look at the very bones of this all-new single. 
As far as the production quality here goes, it's obvious to me that there was a lot of time and energy spent in making every part of the master mix feel contributive to the larger narrative in the lyrics. For example, the drums are acting to push forth a tension dispelled by the sludge of the guitar, while the bass sort of acts as a referee between the two keeping both instruments from drowning out the main agent of evocation in the song – the lead vocal and its harmony with the backdrop. We're never put in the position to guess where one part of the thunder is starting and whether another is ending, because the clarity of the music doesn't allow for any muddiness to get in the way of our listening session. 
I just found out about Nocturnal Animals for the first time this September after receiving a pre-release copy of this single through an industry colleague familiar with their scene, but even with the immense talent coming out of the underground this summer, I think they've got a shot at making a real impact with this offering. They have some rough edges in their sound that will inevitably get sanded-down in time, but the heart and soul of their creative identity is something I would tell them to keep intact and as pure as possible moving forward. This band has the right concept – now it's just a matter of exploiting that concept for everything it's worth. 
Gwen Waggoner