Clara sings with a smoky, sultry voice. Her single, "Down the Drain," is a slow, melancholy post-breakup song. It's most certainly an appropriate showcase for her talent.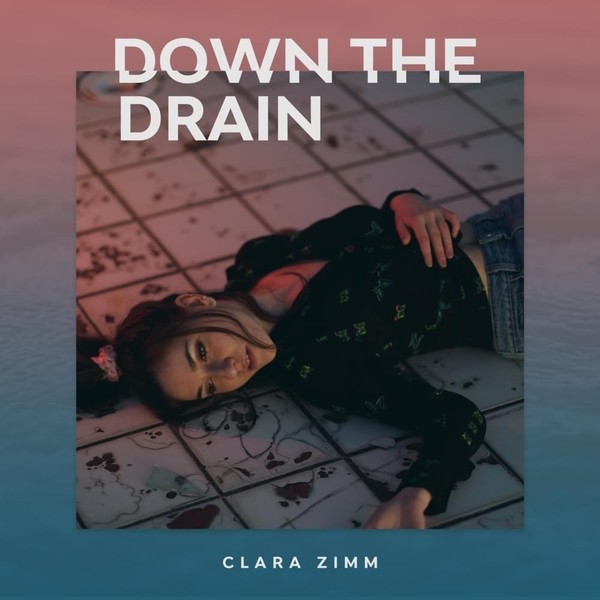 The track opens with little more than Zimm's distinctive voice, and sparse instrumentation – including a clicking percussion part, complete with finger snaps. Zimm is soon joined by what amounts to an orchestrated arrangement. With this backdrop, Zimm sounds like an old school torch singer. One can almost picture her singing this song in a smoke-clouded nightclub in some '40s Film Noir. It's that picturesque.
Streaming: https://open.spotify.com/track/4dJPeYJanJJwbbJIrHfrnt
Lyrically, the song includes a lot of questions that Zimm asks herself. Mostly, these are 'why' questions. She next announces, "I don't wanna see your face/I don't wanna remember your name." Obviously, whatever this ex did to Zimm (or to the character she's inhabiting through the song) was so diabolical, she wants to completely erase what he looks like, and even his very name, from her memory. This is such an extreme position it almost sounds like what someone might say if he/she was a victim of a crime. Therefore, does she believe this person's behavior in their relationship was borderline criminal? One might infer this based upon the lyric. Then again, love songs, even and maybe especially love songs about romance gone bad, are nearly always expressed to the extreme. It just wouldn't have any emotional impact if a songwriter used toothless adjectives and verbs to relay details about the end of a relationship. Even so, though, Zimm is quite strong with her wording here.
With the song's chorus, though, Zimm sings about "watching it go down the drain." Thus, even though she has choice words for the way her ex treated her in their recent relationship, the listener also gets the impression she is expressing regret, too. When we watch something go down a drain, usually, it is not something we intentionally put there. No, it's more often something that was accidentally dropped into that pipe and sinking quickly out of our grasp before we can retrieve it. These words of regret suggest that the relationship Zimm is describing, was once a good one. It's as though we're walking through a partnering that began with great promise, before the other partner behaved in a way that permanently jeopardized said relationship.
Stylistically, "Down the Drain" includes enough contemporary pop elements to make it appeal to fans of contemporary artists like Billie Eilish. There is a female backing chorus on the song, which may also remind you of Amy Winehouse's retro sonic vibe. It's the sort of song that will sound cool and fresh to young musical listeners that may not have the musical knowledge to hear some of the track's inspirations. It should also hold appeal for older listeners, who will pick up on Zimm's obvious inspirations.
https://www.instagram.com/clarazimm/
Ultimately, the only people that are happy when something goes down the drain are plumbers, since in many cases this means paying work for them. For the rest of us, though, it's all about regret. Not only are we losing something, but we're watching something good get away from us. Clara Zimm has a special voice, and "Down the Drain" is the perfect vehicle for her unique talent.
-Dan MacIntosh