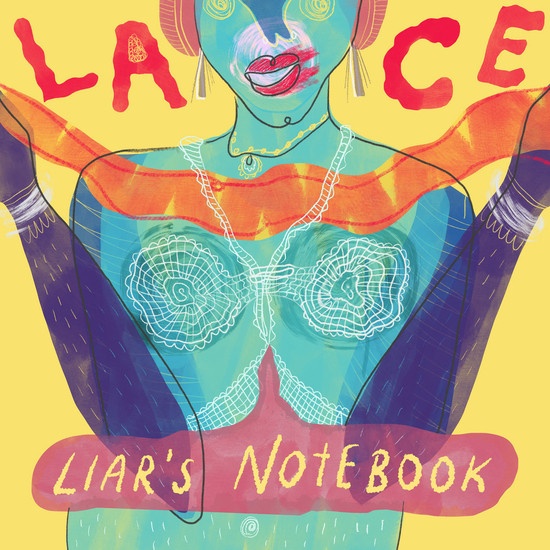 Lace describes its music as the combination of "four eclectic musicians" that incorporate elements of "neo-soul, Konnakol inspired grooves and jazz harmony to form" a unique sound. We all know what neo-soul and jazz are, but what the heck is Konnakol? Konnakol, which is sometimes spelled 'Konokol' or Konakkol,' has been defined as the art of playing percussion syllables vocally in South Indian Carnatic music. Now, not being any sort of expert in South Indian Carnatic music, it's not really clear where this sonic element plays into Lace's album, Liar's Notebook. What is abundantly clear, however, is the strong jazz and soul elements running through this enjoyable, yet brief, four-song release.
BC – https://laceplays.bandcamp.com/album/liars-notebook
Spotify – https://open.spotify.com/album/6PFUeRQTcVyddunlOtKIAh
The release begins with "Liar, Liar," which is built upon clicking percussion and electric guitar jazz chords. It also has an accusatory lyric. Perhaps nothing bugs people more than someone who is a liar. Mana Contractor is the female lead singer on it (and all these songs with vocals) and sings this indictment with true spunk. Like the group's other members, Contractor is based in Los Angeles. Other players on the album include Sidhant Jain (guitar), Connor Coram (bass), Navneet Rao (drums) and Emi Desiré (percussion). On this opening salvo, which clocks in at over five minutes, Contractor can also be heard nicely scatting in key places. In addition to the track's more aggressive jazz sections, it also features some rather dreamy sounds, as well. You get the impression Contractor hates how the other person lies to her but doesn't exactly hate that person. She sounds forgiving.
"Lima" starts off with some truly amazing guitar work. It's fast, with staccato notes, which run over an ethereal backing. It's a short, but oh so impressive 49 second instrumental
On "Bird," Contractor's voice enters the mix with a sweet voice that doesn't sound anything like the angry woman she plays on "Liar, Liar,' This time, she sings long, pretty notes, and at a relaxed pace. To give the track a distinctive bird-like quality, there is added-in whistling, which sounds just like birds chirping. Jain's electric guitar work on this one is equally impressive, once again. It's tricky, without ever sounding like a guitar geek showing off. That's a difficult line to walk.
The project closes with "Remember," and once again it features the winning combination of Contractor's scatting, along with sweet singing. The song, although over six-minutes long, is one of the album's slowest tracks.
One must wonder what the album's title, Liar's Notebook, means. On the one hand, Contractor is featured calling out a liar on his/her lying. But if it's the notebook of a liar, might Contractor actually be calling herself out? Perhaps she's confronting her own propensity to skirt the truth. Just theory.
No matter what the album's title means, this set of four songs is full of pleasurable jazzy sounds. It's as smart as it is sweet, though, and the playing throughout is stellar. And let's be clear: this music is jazzy pop. It's not straight-ahead jazz, nor does it ever try to be. Instead, Lace borrows jazz elements, such as jazz guitar chords, to create a pop album that is especially sophisticated. This makes Liar's Notebook particularly noteworthy.
-Dan MacIntosh