Volcanova's debut "Radical Waves" is out today on The Sign Records. The album contains 10 super groovy tracks straight from the snow-covered deserts of Iceland and combines classic sounding stoner rock with fuzzy metal, psychedelic rock, and plenty of humor. The album is released on digital, vinyl and CD format.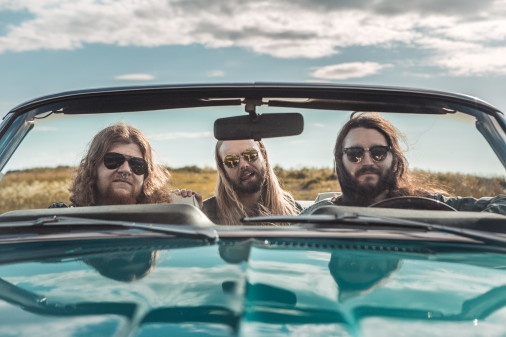 Stream the album: https://orcd.co/radical_waves
In an alternative reality where Kyuss didn't get their start in the sun-drenched weather of California, but in a cold barren volcanic landscape of Iceland, you would get Volcanova. Members hailing from 3 corners of this unique island of lava fields, glaciers, and hot springs came together to erupt a fresh take on desert rock.
The band, formed in 2014 by Samúel Ásgeirsson, Þorsteinn Árnason, and Dagur Atlason, has throughout their active years played high profile support slots in the Icelandic capital Reykjavik with Elder, Brain Police, Sólstafir and the Vintage Caravan, and has completed 2 UK tours as well as countless tours in their home country Iceland. Now, they're releasing their debut album, "Radical Waves" on Swedish label The Sign Records.