What's better than having a supergroup feature various members of distinguished heavy rock bands come together to jam out? The Wheelblocks are one of the best emergences from quarantine, and they're planning on prevailing much longer when life resumes back to normal. This powerhouse group features Chris Jericho on vocals (Fozzy), Nita Strauss on guitar (Alice Cooper), Phil Demmel on guitar (Vio-Lence, ex Machinehead), Johnny Christ on bass (Avenged Sevenfold), and Josh V on drums (Three 6 Mafia).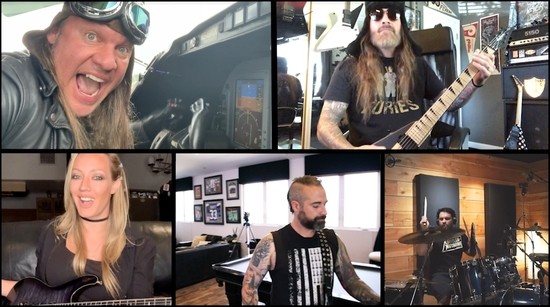 The COVID-era lockdown has brought many setbacks to daily life, but it has brought a lot of people together. The Wheelblocks are utilizing this time to work with other creatives they wouldn't normally work with and enhance their listener's days with some roaring tunes. Jericho's rock star persona in the wrestling rink isn't just a front; that façade is his overall brand. Additionally, he is the host of the "Talk Is Jericho" podcast and "The Rock Of Jericho" radio show. Nita Strauss, frequently on the covers of world wide print magazines, has had a successful solo career and is the current touring guitarist for Alice Cooper. Phil Demmel rose to fame playing lead guitar in Machine Head between 2002 and 2018, making him their longest running member in that position. Johnny Christ is bass player and fan favorite for powerhouse metal band Avenged Sevenfold. Rounding out the line up is Josh V, touring drummer for Three 6 Mafia. The star power and talent came together rather organically; a simple phone call was enough to kickstart the group and get it rolling. This won't be another fad or short-lived video on the internet; The Wheelblocks and all of its superstars won't let the fire they lit die out anytime soon.
Is this another generic quarantine music video with each band member in their respective homes uniting through various boxes on a screen? Nah. The Wheelblocks make sure to make up for their lack of stage presence this year and, instead, exude a fireball of fury, rage, and fun in their new music video "Aces High" (feat. Chris Jericho). None of your Zoom parties will look anything like this. Jericho is flying a fighter jet while singing. Strauss and Demmel put other guitarists to shame with their immaculate solo, and Josh V's punctuated percussion skills keep the band on track. Christ concludes the video with a big splash (a literal cannonball in his inviting backyard pool.) This Iron Maiden original track is reinforced by each member's multifaceted backgrounds. They added a customized twist while staying true to Iron Maiden's classic style, starting, of course, with a replication of their font for the song title. Even when it came to the recreation of the hard notes, Jericho stated, "I can't do an Iron Maiden song and tune it down." So, buckle up, take a shot, and get ready to be taken on a wild ride of all things heavy metal.