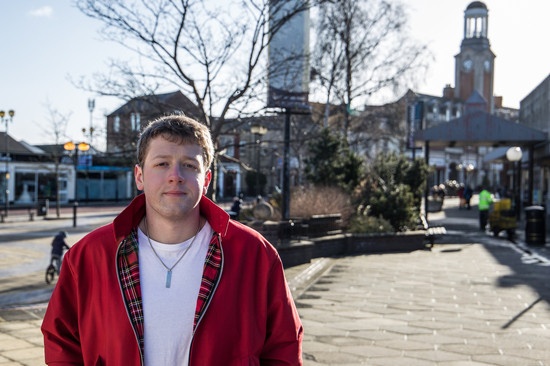 If there was one word to describe upcoming rock talent, Conrad Ashton, it would simply be himself. Creating his unique brand of true to life dance-rock, Conrad's modern take on a vintage rock soundtrack fluidly fuses genres, staying wholly authentic all the while. Hailing influences such as The Who, The Rolling Stones and The Beatles, Conrad's modern take on rock is a smooth evolution from his inspirations. Conrad's new EP is a detailed glimpse into the artist's life, as Conrad revives his past experiences through compelling and relatable lyricism. This honest and direct nature of Conrad's storytelling makes the singer all the more captivating as 'No Post on Sundays' is a refreshingly real, humbly honest and unwaveringly authentic collage of songs.
DSP – https://open.spotify.com/album/0dcs6AFF2xoR4ygdbCMvGZ
Beginning with a captivating song speaking his truth of a past love, Conrad evokes the painfully relatable memory of a bittersweet break up. Without a doubt, we all have someone past flame that springs to mind when this track comes on. Bursting straight into the hard-hitting topics, this track launches us into the striking musical presence of Conrad Ashton. 'Those Were The Days' is the second song of the EP – bringing to mind a young Bowie in his rock phase – Conrad slows us the pace on this track. His gentle lyricism is notable here, as he reminisces over a better past. We've all had those moments of overwhelming nostalgia in lockdown, Conrad just gave us a reason to sing about it. This intimate vibe sets the scene for the next track, 'I'm Already Gone.' This hauntingly honest track is a glimpse into the more tender side of Conrad Ashton. His direct approach to the lyricism drives a raw sincerity often missing in chart-toppers nowadays. The frank and unwavering honesty allows him to share his experiences with depression; unfortunately, this may be all too relatable for some of us, but Conrad somehow creates a catchy tune that stays rooted in the reality of his deepest and darkest moment whilst being totally hummable after the first listen. Swaying slightly from the acoustic grounding of most of his sound, Conrad employs a disorientating synth in this track, which lays a solid foundation for his powerful vocals to perform over. Conrad concludes his EP with an acoustic rendition of his previous single 'Time.'
This is a perfectly unique cover of his widely successful single which has already gained him over eighteen thousand streams on Spotify alone. Covering his own track is a nice conclusion for Conrad latest EP, as he ties together his developing repertoire with a surprisingly sparse rendition of the song that has made his name.
With the recent release of 'No Post On Sundays' Conrad is set to school us all on the no-frills, raw heart and soul of rock music, as the evolving singer-songwriter shows us another side to his skills. Whilst respectfully nodding to decades and artists past, Conrad's evolution and maturing as an artist expands on a genre slowly fading in mainstream music. Yet it's clear from Conrad's 'No Post On Sundays', the rock won't stop on Conrad's watch.
Follow Conrad Ashton now for more info: https://www.conradashton.co.uk/