You may be thrown for a loop while listening to the bluegrass-y (meaning, plenty of bluegrass instrumental elements) on "Early to Bed, Early to Rise" off Liam Moore's second album, Visions of a Perfect life. This is because Moore spends much of his day job time writing classical music for choirs and chamber ensembles. The last time I checked though, choirs and chamber ensembles don't dress in overalls. This remark is not meant to demean bluegrass music; bluegrass musicians are some of the world's most skilled players. However, don't mind all the good manners and Southern hospitality expressed by its top musicians – these players can shred, to apply a common heavy metal term to describe genre's talent pool. You can go all the way back to The Lovin Spoonful's "Nashville Cats," to trace the respect other musical genres feel for country and bluegrass musicianship.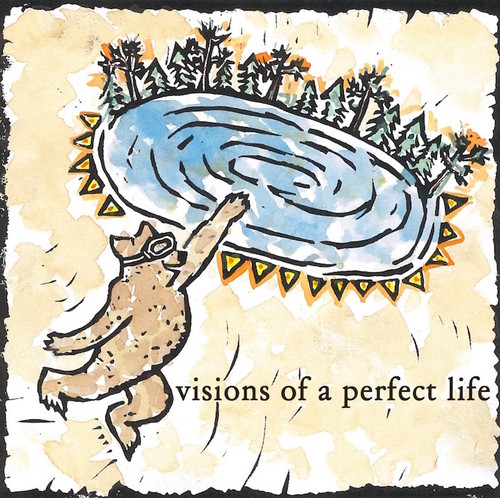 Moore has so much more going for him, though, than merely the ability to walk in a country/bluegrass musician's shoes. This album closes with "(You Don't Have To) Grow Up," which – while starting off as a gentle ballad, eventually builds into a soulful workout – complete with Memphis-worthy horns. One other noteworthy element working its way in and out of many of the album's songs is some truly stellar acoustic guitar work. You might say the guitar picking on the project rates right up there with the pedestal-dwelling guitar pickers John Sebastian praised with The Lovin' Spoonful's "Nashville Cats.
One of the album's singles, "Cosmic Noon," in further eclectic contrast, is a bit like a cross between a standards crooner and – with its spacy effects – "Space Oddity" era David Bowie. The song's lyric includes hyperbole about traveling the universe to find just the right girl, yet the song nevertheless expresses a rather ordinary man-seeks-soulmate pursuit.
There is a decidedly incorrect assumption that all classical musicians are snooty musical brats that look down their noses at other more pop genres. Nothing could further from the truth, as famous classical players have been known to dip their toes in jazz, for example, and jazz – which, let's be honest, also includes a fair number of snooty folk, is nevertheless a much more earthy style of music – at least compared to the rarified air of your typical classical piece.
Spotify: (pre-save) https://snd.click/qwLwa
One called "Finis" includes a few hints of Moore's main gig. It's a lovely, Nick Drake-esque ballad, which also prominently includes flute and other also-classical-music-associated instruments. One titled "Lift" offers an even bigger clue about Moore's identity. It begins with a classical-sounding brass intro, and brass instrumentation throughout. Instrumentally, the track also features a beautifully warm Van Morrison feel overall.
Moore has stated how this album was an attempt to get "the songs stuck in his head to get stuck in yours." Music promoters call this stuck-ness the song's hook. Hooks are not often associated with classical pieces, which are many times long, complicated compositions featuring multiple movements and variations. Moore, although classically trained, is – at the end of the day – a lot like the average music listener. Most of use are attracted to songs that get lodged in our brains, encouraging us to hum these tunes – even when said songs aren't playing. Visions of a Perfect Life offers a non-judgmental perspective of the wide and varied music world. This vision is, in the end, the proper view.
https://www.instagram.com/liammusicmoore
-Dan MacIntosh