Starting off with planning your digital marketing strategy can seem daunting at first. It's not as easy as setting up your social media platforms and picking an aesthetic for your Instagram grid. There's a lot that goes into planning your digital marketing strategy each year.
So, whether you plan to work with a or do it all in-house, there's a few things that you need to keep in mind. Which is why we've created a five-point checklist for planning your 2020 digital marketing strategy.
How will this checklist help?
While this checklist doesn't go into the details of creating a strong digital marketing strategy, it does ensure that you've got your basics covered. By checking off each point on this list, you will be well on your way to building a successful digital marketing strategy.
It's also worth noting that you can always hire an to help you out with all, or even some, aspects of your digital marketing.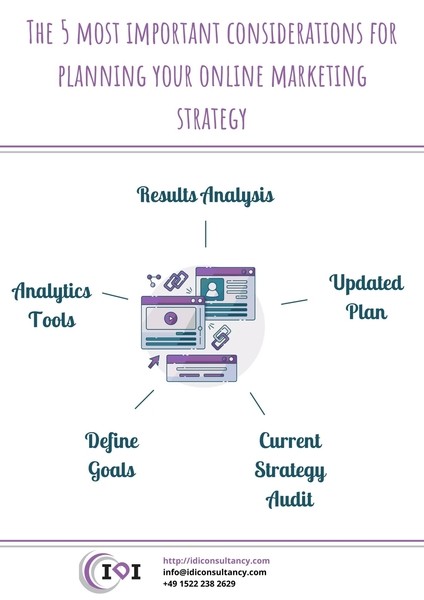 5-point checklist for planning your 2020 digital marketing strategy 
Whether you've already finished planning the second half of your 2020 digital marketing strategy, or are just starting out – this checklist will help you make sure that you're on the right path.
1. Analyze previous results
When planning a new marketing strategy, the first thing that you must always do is look back at previous marketing results. This way you can know exactly what did and didn't work before. Make sure to analyze previous successful campaigns to figure out what made them successful, and how you can emulate the same results.
It's also important to look back at campaigns that didn't do well, so that you can learn from your past mistakes and take a different approach.
2. Define your goals for 2020
What are your marketing goals for the rest of 2020? Do you need new strategies to achieve your new goals? By understanding exactly what you want to get out of your marketing for the rest of the year, you will know where to focus.
While you may want to promote all aspects of your business, it's a better idea to instead select two or three areas of your business to concentrate your efforts. With this strategy, you can put more energy behind those specific areas. Your areas of focus can also change throughout the year – which is also good to include in your overall plan.
3. Audit your current online presence
If you've already been doing digital marketing for a while, it's important to regularly do an audit of your current online presence to make sure that everything is up to date and still relevant.
Things to check include:
What are your customers seeing online when they Google your business name?

Online reputation management

is important.

Is your Google listing up to date – including contact details, address, and opening times.

Is all the content on your blog up to date? It might be worth updating older posts with current information or even deleting poor quality posts.

Is all information on your website up to date?

Is your business listed on any review sites that you need to respond to?

Are all of the social media platforms that you're on still relevant?
This audit will also give you an idea on whether or not it's time for a bit of a brand refresh. For example, if your website is looking a bit tired, then perhaps you can include a website revamp into your digital marketing strategy. Or, if you notice that your business's Twitter account isn't providing any value to your business, then you can consider closing the account.
4. Develop a plan on how to reach your goals
Once you've defined your goals, you need to work on a plan to reach them. Having very specific goals helps to narrow down your focus. It also helps to make sure that your goals are measurable so that you can track your progress.
You need to develop plans for each part of your digital marketing strategy. This includes things like SEO, social media, content marketing, website management, email marketing, as well as your total online presence.
If there's only one section that you need help with, for example your SEO strategy, you could also hire a professional SEO consultant to help you out.
5. Make sure your analytics are set up
This ties in with the first point on this checklist – it is so important to make sure that your analytics are set up so that you can track all of your marketing efforts. Without it, you won't have any data to back up your efforts and help you make informed decisions going forward.
There are a few ways that you can track your initiatives, from Google Analytics to social media platform insights and other tracking tools.
Should you hire an online marketing consultant to help you out?
As a business owner, you've probably got your hands full handling all the day-to-day operations of your business. You don't always have time to also focus on digital marketing, which is where hiring an online marketing consultant can help out.
Not only can they save you time, but they can also save you money in the long-run as you know that you'll get your digital marketing strategy right from the beginning. Digital marketing strategies such as content marketing, SEO, email marketing, website marketing, and social media marketing all need experts to successfully implement, because they are skills that take years to learn. Not to mention that how these methods work are constantly evolving.
Hiring an online marketing consultant will give you access to someone with the right skills and experience. And if the cost is what scares you off, know that investing in an expert online marketing consultant can actually pay you back by driving new customers to your business.