It is a hot & steamy Thursday here in New England, USA but we are looking at August 2020 and the music here @skopemag keeps going. So today we have got to hang with Jazz Singer/Songwriter Barbara Santora. Barbara has been going strong in music since the age of 15 and she has never looked back. I caught a listen to her album 'Timeless' while going through Spotify and I was sold. This is the essence of what jazz has come from and where it is going. Join us today as Barbara Santora speaks on dealing with covid19, the album 'Timeless', transition from classical to jazz, and much more!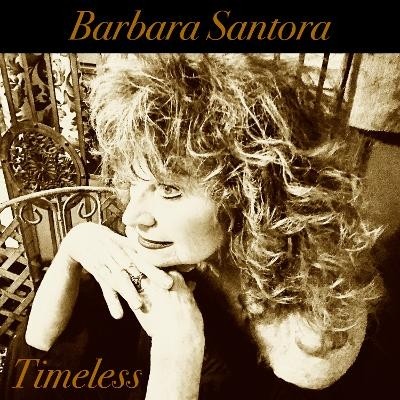 @skopemag: Where are we talking from today and how is your week going so far?
BS: Hi, my week has been good. I'm talking to you today from Newburgh, Indiana, where it is hot hot hot! LOL! I'm not going out much except for groceries and rehearsals. And I always wear a mask. My vocal chords are getting a good workout for sure, even in the mask.
@skopemag: We are living in the days of COVID-19. How has this pandemic affected your personal & music lifestyle?
BS: Covid 19. Wow. How it has affected all of us. Many prayers for all the people who have lost their lives and especially for families and anybody who has lost a loved one in this pandemic. It's so hard not being able to do all the things I used to take for granted. I miss live performances so much. Connecting with my musical family is so important to me. I'm keeping a positive attitude and have added several songs to my repertoire including a couple of wonderful new originals I'll be recording in the weeks ahead. You could say I'm trying to make the best from the worst and hoping things will soon get back to normal, or as close to normal as they can get:)
@skopemag: At what age did you really know music was your passion and did your family & friends support you?
BS: Well, I'd say the moment I was born, but that might be a slight exaggeration! Truthfully, I was three or four years old when they would place me on a coffee table and I would sing at the top of my lungs. My family and friends would reward me with pennies, nickels, dimes and the occasional quarter to keep me singing—not that I needed much prompting. When I was 5, I would tug at my mother whenever Bob Hope and the USO came on TV. The performers held me spellbound. I told her I was going to do that one day. When I played with paper dolls, of course, in my imagination they were always singers. I knew singing was my gift, and I was going to use it!
I graduated from high school at 17, a year early, because I skipped kindergarten. I know my parents expected me to attend college right away, but this determined (or should I say stubborn) teenager wanted to go another direction. So I accepted a job with an entertainment troupe out of Chicago that trained me to work with marionettes. We toured as opening act for Ferrante and Teicher. As well as working the puppets I sang and talked in different voices for each of the five characters. Nothing could stop me from following my dream of being a singer and entertainer. (I like to blame it on my red hair) LOL! Support from family and friends as I pursued my dream was and still is very important. When others believe in you, it helps you believe in yourself. I've been especially blessed by my husband, Tony, who is always there for me.
@skopemag: You began with classical and slowly moved into Jazz, how did that evolution happen and who are two of your favorite Jazz musicians?
BS: After studying classical and opera for years I began to feel stifled. I wanted to move, to sing behind a beat, to add extra notes, to improvise. When I was offered a job singing in Las Vegas, I made the transition into jazz. I never looked back.
There are so many things I love about so many different jazz artists. Particularly I love the soulful, classy phrasing of Nancy Wilson. And Mel Torme's impeccable pitch and total use of his instrument is genius.
@skopemag: I respect how at 19 you enrolled in formal studies of music, theater and dance at Indiana University. Would you say that investment of $$$ and time helped enhance your music career?
BS: Yes, yes, yes—I can't begin to think of where I'd be had I not learned to breathe correctly and use my vocal chords properly (they are my instrument, after all) . . . and, dare I say, learn music theory (yuck). But I am so glad now that I did. I can sing over a cold, through laryngitis and in just about all conditions that can and do affect your voice. If there is a downside to all that study, it is the difficulty in learning to control your vibrato, which is so different in jazz. But I conquered it and have actually helped others do so, too.
DSP – https://open.spotify.com/album/3dwVdDH70eg3ghcBLTLJWW?si=iEswY_4oS32W63ntfLp3Ng
@skopemag: You have been in music before streaming and the digital transition. What do you miss from the analog days and what do you love about today's technology as a musician?
BS: Indeed I have, and probably the one-on-one live connection with fans and audiences in general is what I miss the most. I treasure the days when you could get an autographed vinyl LP on the spot. When you communicated with fans via home addresses instead of email addresses, where you could send a Christmas card or some special note to them via mail. Also I found it interesting to uniquely decorate an envelope with an introduction letter written as a poem surrounded by red polka dots pasted on the outside of it that contained a 45 record with my picture and return address in the spindle hole. These envelopes contained a lot of dreams and hopes and I always waited eagerly for replies from the A&R teams at the record companies. But today's technology makes it so much easier for all people to hear and follow new artists and music. I definitely appreciate that.
@skoepmag: How much time per week do you devote to creating & promoting music and engaging with new & loyal fans?
I try to post updates about my music to social media a couple of times a week. When I'm excited about something, my first instinct is to share it with those who share my interests, especially followers and fans. Sometimes I'll just send out a birthday wish or a note about something I'm thankful for. Today's technology does make it easier for people to stay in touch. I confess a lack of savvy with computers—but I am learning and I have a great team helping me.
@skopemag: I listened to the album, 'Timeless' and I loved it via Spotify. Give us some insight into how these songs came together and where did you do the writing & recording?
BS: Thanks so much for listening and for your response. The album developed over a period of time with different writers and musicians. Baby I Need Your Love was written for me as a gift by someone who also penned songs for Lynyrd Skynyrd. The cover tunes are songs that each have a special meaning to me and I recorded them in the studio with my band Jazzin' right here in Newburgh. That's Just the Way It Goes was written by John Michael O'Leary, the other half of my musical duo Side By Side. We recorded it in his studio and worked with BLAZAR for mixing and mastering.
@skopemag: When you release new music – do you get anxiety on how it will be received, or not at all?
BS: I really don't get anxious when I release music. I'm such a perfectionist and I truly believe the people who listen have keen ears and astute taste—many are musicians themselves. Frankly, if I don't like what I hear, it won't get released. I do, however, love seeing the comments and responses of listeners.
@skopemag: When you are not doing music, what else do you enjoy to do on leisure time?
BS: I guess you could say my secondary muse is visual art. I'm forever designing and creating things for aesthetic value, whether a wall mural or an arrangement of flowers. I love colors and shapes and combining them to make spaces and the world we inhabit more beautiful. I think this is a reflection of my love for music, my own desire to leave a visual footprint that is as harmonious with life as my audio footprint. I also make a pretty mean shrimp scampi—just ask Tony! LOL
@skopemag: The younger generation are immersed in TikTok, Instagram, Snapchat and YouTube. Please explain the beauty & significance of Jazz music for anyone not familiar with that amazing genre.
BS: Open your ears, my young friends, and it will open your eyes as well. So many of today's artists that perform in other genres will do a jazz tune on occasion—Gloria Estefan, Rod Stewart, Lady Gaga and Sting, to name just a few. Why is this? Because the days of those unforgettable sessions with fabulous jazz musicians were like school to eager students years ago. They weren't just jazz lovers, they were musicians who discovered that the more you learn, the more you can do. An unthought-of guitar lick, an unusual lyric phrasing or an improvised scat solo—all contribute to making a jazz artist unique. And that's what all artists desire—their own identity. Fortunately, today's technology gives us all an extra outlet for our music. We need to embrace the opportunity and learn from it. People of all ages come to my concerts and listen to my music. Why shouldn't they? Music has life—it breathes, excites, comforts—and it is timeless!
@skopemag: Speaking of social media where can we follow / like / comment on everything related to Barbara Santora?
BS: Thank you for asking. Here are the places you'll find me. I look forward to seeing you, one way or another, soon!
https://www.instagram.com/barbarasantoramusicofficial
—
https://www.facebook.com/barbjohnsidebyside