Ready for a night out? This is the track to get you ready. Get ready to party and get down with some funky licks courtesy of AV Super Sunshine in the irresistible "Baby Goodbye". Grammy nominated songwriter and producer James House recruited a stellar list of musicians to create this high energy, power pop track, with AV Super Sunshine on vocals, out now via Victor House Records.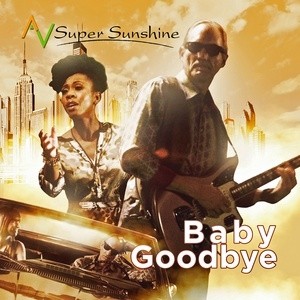 MORE ON AV SUPER SUNSHINE: https://www.avsupersunshine.com/
Sounding like the song that comes up on the radio when you turn the keys to your Chevy Camaro, this track drives the listener into a blistering mix of vintage, NYC-style rock and funk. The sound is busy, like a popping city sidewalk and street. The stealth-like guitar swarms its way through the heavy vocal vapor that is AV Super Sunshine's singing. Plastered throughout the track is a swell mix of circular keys/organ music, and crunchy and chunky guitar riffs.
AV Super Sunshine sings maybe we'll fly, no place to go before he escapades the listener into a various places to hit like downtown, uptown and midtown. We just can't stay inside all day, there's a whole world out there to explore, he sings, his guitar crunching its way on all cylinders. AV Super Sunshine, a Wisconsin-born rocker, shows his Jimi Hendrix and Pink Floyd influences in the dreamy, psychedelic music escape. Backing vocalist Ruby Amanfu not only adds a touch of class, but her soulful voice elevates the song with her angelic-winged voice. Amandfu, who has worked with Jack White, Beyonce and H.E.R,  hovers above the mix, a beacon of light, where AV Super Sunshine's vocals are stirring the pot below. He's right on time and his voice sounds to be a fine tailored suit made of cigarettes, velvet and angora. It's the perfect 'character' voice for a groovy blending.
APPLE MUSIC: https://music.apple.com/us/album/bass-face-remixes/1306876730?i=1306876970&ign-gact=3&ls=1
Drummer Brad Pemberton (Patty Griffin, Steve Earle, Willie Nelson and more) fills the corners with heavy bass drum and high tops. The bass guitar thumps along, just melting in between the organ's cracks. The overall rhythm is heavier, more pronounced than the band's previous outing "Smile", but equally retro. AV Super Sunshine has been astounding global audiences and topping several world indie charts. "Baby Goodbye" is more serious in musical tone than "Smile" but AV Super Sunshine's vocals are broader in storytelling. I think he moves the song along better. There's more depth. Let's go downtown to the coffee shop, AV Super Sunshine urges, let's go we'll drink a lot. When these words collide, so does the bubbling music bed. It's a more determined sound than "Smile" and not as passive. It's still very fun, and freeing. No, no place to go, he sings, while Amanfu bolsters his sound. "Baby Goodbye" picks up some speed right after the bridge and just about the song's end, it crushes it! AV Super Sunshine excels at creating a wall of sound that nearly drowns out his vocals, but the final production proves he never crosses the borders. "Baby Goodbye" is ultra-cool and swanky for any night of the week, but it just begs to be written on as my social calendar's Saturday night theme song.
Gwen Waggoner