With a bouncy swing in its step, the highly-engaging grooves of Human Too's title track fill the air around us with a delicate rhythm that is certain to have plenty of folks moving their hips well before we hit the first chorus in the song. In this opening cut from Nikki Lerner's third studio album, we're not given any opportunities to take a breath in preparation of what we're about to enjoy – Lerner isn't wasting time with long, drawn-out intros here. From the title cut we jump straight into more texturally expressive beats in "Strength" and jazz-inspired swagger ala "Colors," both of which are packing more of a melodic punch than some of the records getting big press out of the mainstream this summer can boast.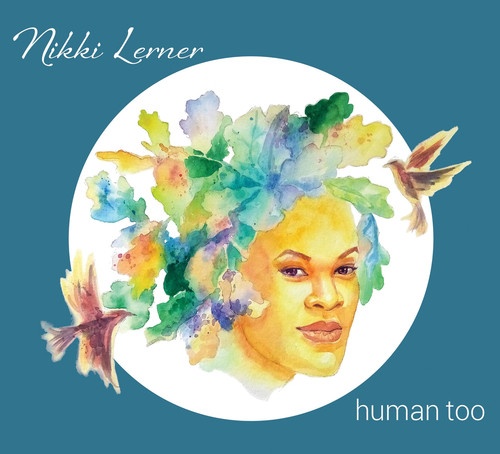 MORE ON NIKKI LERNER: http://www.nikkilerner.com/
"Solomon's Song" is the first true slow song in the tracklist of Human Too, but it doesn't throw a wrench in the gears of the momentum that gets us going in the first three tracks here. This tune brings down the tension of the beat to clear some space for Lerner's vocal to be the omnipotent force it can be when there's nothing competing for the spotlight in the mix, and while "What I Really Meant to Say" turns up the heat once more, we segue from one song to the next as if they were always meant to be consumed in a medley. Lerner is always spot-on with her singing whether she's churning in a ballad like "Solomon's Song" or getting into the grind of a groove-happy "Falling;" after all, she's no rookie when it comes to making a compelling rhythm all the better with her signature vocal.
The latter half of Human Too is made up of live-recorded material, starting with "Welcome to the New," and I must say that it adds an additional layer of charisma to the tracklist that you just don't find every day in the pop genre anymore. "Welcome to the New" plays every bit the part of a concert-starter, while the seven and a half minute-long "Longing" feels like the culmination of an entire show's worth of emotionality in a single performance. "Home" is a little edgier than the two tracks preceding it, but it leads us into a supple song in "Love Again" that cathartically brings things full-circle in a way that no other track here could have.
BANDCAMP: https://nikkilerner.bandcamp.com/
Human Too comes to a conclusion with the uncut "Tell Me," which presents the audience with a fly-on-the-wall perspective of the recording process for Nikki Lerner that is almost guaranteed to make anyone listening feel connected with her unrelenting commitment to the medium. She's all-in on these verses, and more specifically, the harmonies that give them an unmistakable color indicative of provocative neo-soul music. I was somewhat familiar with her last two albums before getting into Human Too, but after hearing this most recent release, I would consider myself quite the fan indeed. Nikki Lerner is a legend in the making, and her authenticity in this third album definitely proves as much.
Gwen Waggoner