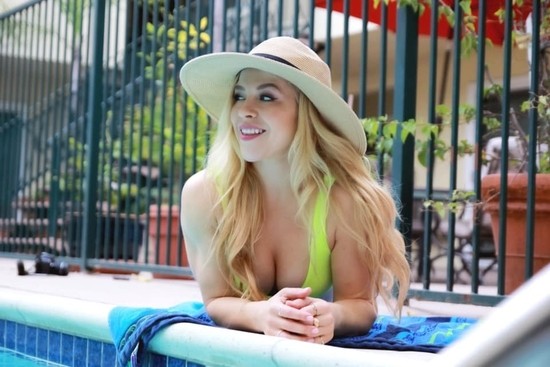 An arresting song from a rising star – "I Don't Need You (Ryan Riback Remix)" from singer and songwriter Maggie Szabo expands its pop sounds into a tricky EDM realm. The sweeping backdrop and gorgeous vocals are just two things that make this feisty track a winner. Taking to task the turmoil that has haunted her past, Szabo, now based in Los Angeles, wills her way into a new territory of self-assurance, with the help of legendary Australian beat wizard Ryan Riback.
INSTAGRAM: https://www.instagram.com/allaboutmaggie/?hl=en
Riback's rhythms capture the euphoria time stamp of confusion, acceptance and alertness. His versatility continues to amaze, as "I Don't Need You" captures a new sense of bright, burning celebrations. Alongside Szabo's crooning, emotional vocals, this remix is more whimsical and charged than the original track. In the main track, Szabo's vocals are slower, she's a bit more reflective. I'm not saying she's aggressive in the sprawling remix, but she's definitely more fast-paced, almost impatient. The tempo lights like a fire outbreak. It's almost glittering. The remix gives an intimate sounding track a platform to be bigger. Riback is generous with the tempo and club vitality.
DSP – https://open.spotify.com/album/1pIr1oKqLXGya4HasdL9UE
I don't need you, I don't need you is the ear-candy of a chorus. It basically moves into your life. I liked how Szabo starts her tale, though, her songwriting really hones into a direct connection. When you left that day, I'll admit I cried…I've been better off, she sings. Her pitch is faster, higher in the remix version. She skips to her point rather quickly – giving the listener the sense of 'don't bore us, get to the chorus.' I was intrigued from the start, and started to surmise some ideas of what really happened between her and her partner. She's not too melodramatic and that's a good thing. I liked the variance in this, and Riback's added flavoring gives the song an unexpected boost. She's angling for that connection with the listener to cheer her on, be in her corner because she knows they've been in her shoes. She's relatable. The remix is bolder, and yet strangely looser. Szabo's flourishing vocals elevate the song into an impressive versatility. She's not reinventing the pop music wheel, but she's coasting along with this song into a very comfortable spot. I think the original version explores a bit more vocal sophistication, but the remix allows for a more emotional reaction in her listeners. The remix embellishes the music bed, not the authenticity in her voice. Her incredible voice stands alone in the crowd.
BEATPORT: https://www.beatport.com/release/i-dont-need-you-ryan-riback-remix/3015795
I think as the song moves along you start to wonder where Szabo will situate herself into the world of pop, and ask yourself how she is making her sound and her viewpoints stand out. The answer is, of course, she's got that instant rapport with her listeners. The smoldering voice, the yin and yang of her pitch and artistry within the music bed, makes for something very special. She's in-tune with her inner voice just as much as she is in her auditory skills. You can't fake that.
Gwen Waggoner