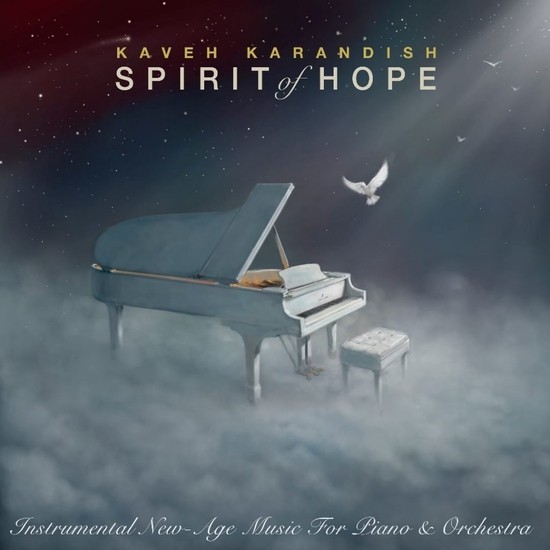 Kaveh Karandish's "Spirit of Hope" delves into a blissful, hallowed realm full of endless possibilities. Without needing to say a single word a narrative begins to unfurl. The delicate piano playing ties the entire album together anchoring it in a sense of optimism. Arrangements effortlessly swirl around the majesty of Kaveh Karandish's uncanny chops, with a style that recalls George Winston's expressive output. Rhythms go for a gentleness for the journey has a careful cadence to it. Instrumentally rich the way the many elements are woven together makes the whole of the experience a vast tapestry of sound.
DSP – https://soundcloud.com/kaveh/sets/spirit-of-hope
A cinematic scope introduces things on the lovely title track and opener "Spirit of Hope". From the guitar work to the fragile percussion it all has a soothing atmosphere. Wonderful woodwinds intermingle on the fluttering beauty of "Sunset Sparrows". Hushed awe emerges on the epic journey of "Infinite Horizon" with gorgeous melodies wafting way up into the air. Tempos slow down considerably on the lush "Silent Whispers" for the entirety of the piece has a cyclical mantra to it. Fantastic with its stately presence "Sacrifice of Soyembika" proves to be the height of pure grandeur. Such a rich classical symphony appears on the horizon with the careful "Visions of Grace". Neatly tying the whole of the album together is the reflective scope of the finale "Gratitude".
"Spirit of Hope" shows off the impeccable skill of Kaveh Karandish in crafting a universe that positively teems with so much life.
https://www.kavehpiano.com/
https://www.facebook.com/kavehpiano/