I was taken aback by the high quality and well-executed detail put into this new release by Kristian Montgomery & The Winterkill Band. Come to find out that this album was inspired by Kristian's time spent in prison, so the material is extremely personal. It goes to show that light can form out of darkness and 'The Gravel Church' is a true testament to that fact.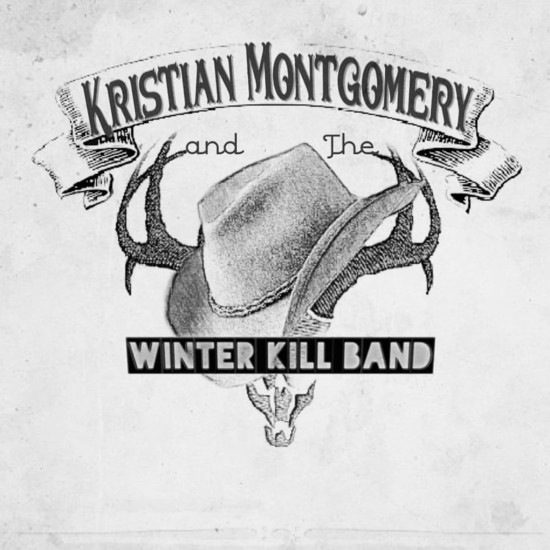 The record originally started as a 5 song EP, but Kristian Montgomery & The Winterkill Band had a lot more to say about 'The Gravel Church'. I'm so glad this group didn't hold back because this album truly speaks volumes. Musically, 'The Gravel Church' is so rich in substance while Kristian Montgomery has such a pristine voice. And of course lyrically, this record touches on intimate accounts that are all to real for Kristian Montgomery. The result is just an ear-opening experience full of hope & redemption, so let's head into 'The Gravel Church'.
With elements of rock and county, Kristian said it best when talking about this 16-track recording project: "It's an album of reflection, understanding and healing and it's everything country and rock 'n' roll is supposed to be". With an enticing set-up like that, how could you not want to listen to 'The Gravel Church' now! The record starts up with a song called "Boston" that has a real cool country tone while the vocals & instrumentation are rock solid. And the band apparently has "dreams of meeting Billy Joel" on "Boston" and I can't argue with that! Next, we get a slowed-down tempo on "Foolish Devil" that offers much impact both vocally and musically. On track three, "Horses", the listener will hear an excellent stride that gallops along at just the right speed; Giddy-Up! This particular song is as glorious as horses, themselves, are and so one enjoyable listening experience for sure. Flowing along, there will be no naps allowed on "Couch Sleeper" as this number proves to be a real mover & shaker-type tune. Kristian Montgomery & The Winterkill Band is laying it all out on "Razor Wire Heart" where raw feelings are just pouring out for all to hear. On track six, "Polly Amorous", the listener will receive a similar beat to that of the classic song "We Will Rock You" by Queen in the intro where the emphatic hand-clapping is in full effect! Next, on "Hjertebygger", deep words are spoken in the beginning which matches the mystifying performance/presence displayed on this song. On track eight, "A Life Like This", you will get a fun & loose rhythm with nice harmonies in place. And what's "A Life Like This" without a little whistling for good measure; can't go wrong! Moving along, you will receive such an inviting feel on "Take You Home" that has an appealing sound. Track 10, "You're New", is fan-friendly music that you will instantly gravitate toward. On "Girls That Fall Apart", get ready for a real snappy beat that's pleasing to the ears and then you will be rolling along to some good, jumpin' & jivin' times on "She's No Cadillac". Track 13, "Tha Bird Won't Fly", is gliding along at just the right pace and then get equipped with references to war on "Look At My Child". Kristian Montgomery & The Winterkill Band end on an endearing note with "Auld Lange Syne" that is beautifully done. This song is both touching and enriching as "Auld Lange Syne" hits you right inside.
'The Gravel Chuch' offers top-notch recording quality as the 16-song set was recorded at Ultrasound Productions and produced by Joe Clapp. This is an album you will want to listen to more than once—guaranteed! Kristian Montgomery & The Winterkill Band is allowing plenty of bright light to shine through on 'The Gravel Church', which will surround you and pull you in. In terms of this album and what it mean to Kristian Montgomery, he said it best here: "A labor of love in a time where love is hard to find." Time to head to 'The Gravel Church' and stay for awhile; you won't regret it!
https://www.facebook.com/kristianmwkb/
By Jimmy Rae (https://skopemag.com/?s=Jimmy+Rae)