Rapper Najee Janey opens his As Is EP with a track called, "Tired of Being Tired." This music is said to have been inspired by the recent Covid-19 pandemic, and you can hear Janey's emotions spilling all over this five-song effort. Saying that one is 'tired of being tired,' just about says it all. We're all tired of the restrictions. We're tired of the rising death toll. We're tired of all the pent-up stress. We're simply tired, yes, of being tired.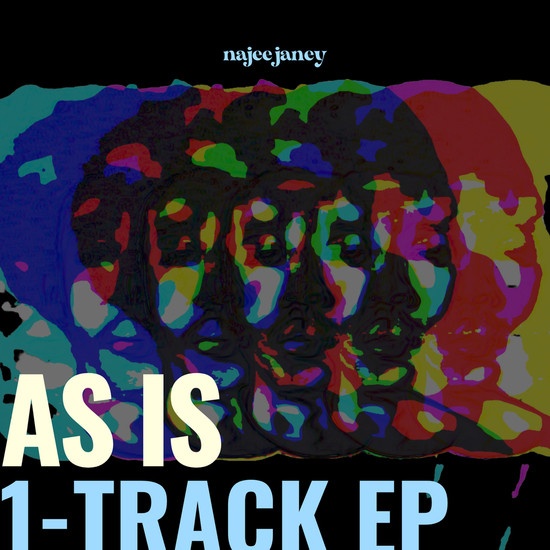 Sonically, Janey utilizes a wide variety of sonic beds to support his raps. "Every Star Has A Shadow," is built upon an old school funk groove, for instance. Also, Janey is not one of those laidback rappers like, say, Snoop Dogg. Instead, he's a lyricist that packs many words into each track. This leaves the impression of man that almost has too much on his mind; so much so, he can barely get it all out there, verbally.
DSP – https://soundcloud.com/najeejaney/asis-1-track-ep
Although much of this project is packed with Janey rapping, album-closer "Isley" is a sweet, light soul song. It's more sung than rapped, even though it also includes a rap. Additionally, it features falsetto singing, as well as churchy organ underpinning it. Rhythmically, Janey's phrasing has a Marvin Gaye-like feel to it, as though it was – at least in part – inspired by Gaye's What's Going On. The music on one called "Wild" also has a Marvin Gaye vibe to it. Another called "Uhreevuhderchee," is jazz-based, with a jazzy trumpet and saxophone solo running through it. That track also includes soulful backing vocals, as well as a falsetto part. Instrumentally, it also has plenty of electric piano.
Janey is from Roxbury, MA, and the son of photojournalist Charles Janey. He calls his father his first musical influence. His dad sang at home, and played a wide variety of music, including reggae, funk and R&B.
There's a lot of anger emanating from these grooves. Although it's a recording that predates much of the George Floyd civil unrest and protests, it nevertheless anticipates these. The reaction to Floyd's death didn't happen in a vacuum. There was a build up to it, and the response to his demise might be seen as the final straw before everything broke loose.
https://www.instagram.com/najeejaney/
Janey has said, "As Is is the way it will always be, a reflection of an unprecedented period on our planet during a time when many of us were forced to sit in solitude and seek ourselves." His point about sitting "in solitude" and seeking "ourselves," is well taken. In normal times, we're often just too busy to contemplate life. We're reacting, not reflecting. However, when you can't go out to clubs, parties or most other social gatherings, you're left alone, usually where it's quiet, and where you can think — deeply. Artists like Janey are already deep thinkers; it's what and who they are. However, these recent big sociological changes in our world have only heightened this artist's sensitivity. Therefore, it's not surprising that this unusual time period has created creative new art, such as Najee Jeney's new EP. Bursts of such creativity are one of the benefits that come our of unusual circumstances. As Is is very much of life right now.
By – Dan MacIntosh