When you say timing is everything, Scott Waters couldn't have timed this project any better with his new release titled 'Peace Signs & Dragonflies'. With 12 well-composed songs on this album, a sense of peace & joy is the overlying theme. Who couldn't use a little good, old-fashioned peace & happiness to brighten their days; RIGHT!?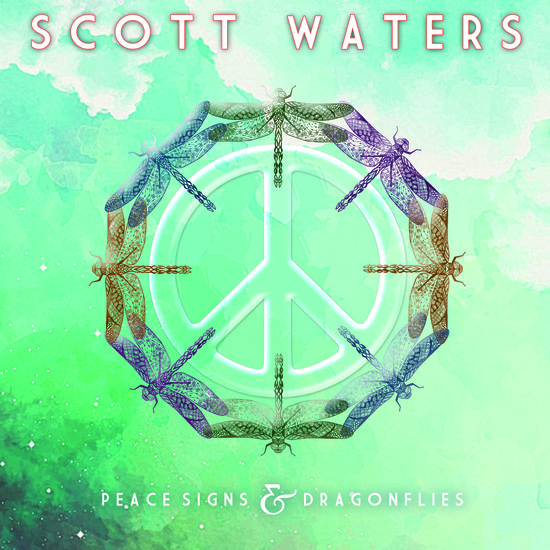 I was shocked to discover that 'Peace Signs & Dragonflies' is actually a debut release as a solo artist for Scott Waters. Scott has been writing & performing songs since his teenage years and has worked with other musicians, but this record marks a new & exciting beginning for Scott Waters. I can honestly tell you that Scott Waters has knocked it out of the box and really has outdone himself with this 12-track recording project. There are so many positive points to discuss on 'Peace Signs & Dragonflies', so let's jump right into it!
On the opening number, "Only What I Want", the listener will immediately attract to the likable style & aura that Scott is putting out there. One will be injected with an inviting sound as you enter an open space of "Peace Signs & Dragonflies". Next on "Always Love", embrace the pleasing melody where "it's always love that lights the way". Track three, "Save My Life (Like Poetry), flows along so gracefully and is just the ideal bite for the musical palette. Get ready for an uptempo, fun number with "County Line" where you will want to "Let the Good Times Roll", (The Cars). Grab some lively, cool vibes on "Love Story" and then hear a finer touch brushing by you with a splash of colorful notes on "Paint By Numbers". On track seven, "Hey Rock and Roll", you will find yourself swaying your arms from side to side and clapping along to this instant anthem by Scott Waters. Don't try to fight it because the "Hey Rock and Roll" spirit is contagious and timeless. On the song called "When It's Only Love", the audience will pick up on a nice 'n' steady rhythm and just an easy-breezy feel overall that rushes over you. Prepare to tie up these vibrant "Shoelaces" that offer plenty of comfort and satisfaction. "Shoelaces" is the perfect loop that will be running through your eardrums all day long! Track 10, "You Are My Home", provides a heartfelt tone that is welcoming and urging listeners to come in and join US. Scott Brooks gives a powerful performance on "The Word Goodbye" where the artist is laying all of his emotional cards out on the table. There is no need to fold here because "The Word Goodbye" is most certainly not a bust but rather a winning, helping hand. What a sweet & subtle finish with "Zarah's Lullaby" that is loving in nature and just so comforting.
I am now a Scott Waters fan and I can't wait to see what this talented, positive-minded musician comes out with next. The material on 'Peace Signs & Dragonflies' can be enjoyed by anyone in the world due to its universal language that speaks to many. Scott Waters sings straight from the heart on every song here and that's what I respect most about him. We need more artists like Scott Waters today and we could always use more 'Peace Signs & Dragonflies'. LIVE…LOVE…LISTEN!
https://www.scottwatersmusic.com/
By Jimmy Rae