Steve Baskin's 'Mind Your Step' is his fourth solo album, and it features a wide variety of sounds. Yes, you can categorize Baskin's music as singer/songwriter fare, but it's so much more than that. The album opens, for example, with "Afraid Today," which is a relatively noisy Bo Diddly -groove rocker. These ten tracks go on to touch upon countless musical genres along the way.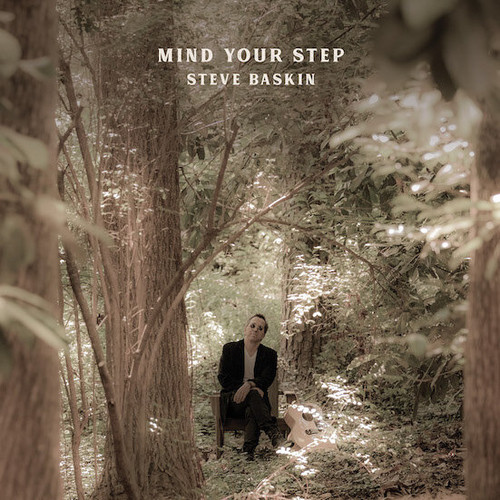 One style Baskin particularly enjoys dipping his toes into is soul music. This album's title track, in fact, is a brass horn-supported soulful workout. "Cutting Room Floor, however, is a far more aggressive variety of soul music. In contrast, "Glass of Wine," while equally soulful, leans closer toward the meditative end of the emotional spectrum.
Audio Link To Listen:
https://open.spotify.com/album/1DKDe0rlaBM2NUcNK9vD8g
The listener is also treated to instances of country, or at least country inspired songs. The album's best song title, "Big Wedding, Small Divorce," includes twangy electric guitar and steel guitar – two clear country music elements. This song's title is also a sad commentary on modern romance. It's tragic how relationships, which many times kick off with huge public weddings, sometimes conclude with little, private divorces. "Pick Up the Pieces" is more along the lines of acoustic folk, although it also works in steel guitar. Steel guitar returns with "Dances by Moonlight," one of the project's moodier pieces. One hears a mandolin solo on Baskin's cover of Bob Welch's "Sentimental Lady." Ironically, this — Welch's greatest hit — was with a song he also recorded with Fleetwood Mac, before recording "Sentimental Lady" as a solo artist to great success. Poor Welch left Fleetwood Mack just before Lindsey Buckingham and Stevie Nicks joined that band and simply exploded commercially.
The album closes with "Time for Bed," which is a lovely little lullaby. It's a beautiful concluding touch. Mark Neil produced this fourth effort of Baskin's and came to the project with quite the noteworthy resume. He's also produced the Old 97's and Los Straitjackets, as well.
Mind Your Step is a strong set of songs. This album will appeal immediately to fans of Americana music, as well as those that appreciate singer/songwriters, country songs and artists with strong, traditional songwriting skills. Baskin is a smart lyricist, and there isn't a throwaway song on this album. Mind Your Step may remind you of the 70s singer/songwriter movement, back when Laurel Canyon in Southern California was producing some of that era's best music. Although that music was pegged as modern folk music, it was also a time when these singer-songwriters were stylistic omnivores. They weren't country artists, yet they also weren't afraid to put steel guitar on a track if it felt right. These days, if a pop artist mixes in a little country into a tune they're hailed as a kind of adventurous pioneer. Back in the 70s, though, being eclectic was nearly expected from these ground-breakers.
https://www.instagram.com/stevebaskinmusic/
Baskin deserves to be better known. He's quietly creating a strong catalogue of songs. Mind Your Step is an album that's easy to love, from the very first listen. It may not be jarringly creative, but it's certainly soothing and smart. Give it a try. You won't regret it.
-Dan MacIntosh