Pete Bernhard is a stand-out singer/songwriter who finally gets to tackle the wonderful world of folk music on his third solo release titled 'Harmony Ascension Division'. On recording this new album, Pete Bernhard stated that this "folk album gave me a chance to worship some of my heroes". One folk hero that comes to mind is the great storyteller Bob Dylan as I picked up on a heavy influence to the musical poet on 'Harmony Ascension Division'.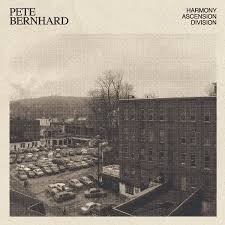 There are nine original songs on this record and all written by Pete Bernhard. Bernhard is also on lead vocals, guitar & percussion with Tyler Gibbons on bass, Bill Esses on percussion and Robin MacArthur & Margaret Bernhard on backing vocals. 'Harmony Ascension Division' was recorded by Bill Esses in Marlboro, Vermont and have to say the recording quality here is top-notch. As Bryan Adams said: "Cuts Like a Knife" and that's the best way to describe the overall production of 'Harmony Ascension Division'. The album starts up with a song called "I Knew You" that portrays a simple-kind-of-life feel but with nostalgic sadness in place. Track two, "Land of Milk & Honey", offers the listener rootsy travels where you will want to hit the road with Pete and soak it all in. Bernhard is doing some soul-searching on "Can't Find You" where he coherently sings "If I can't have you, I can have whiskey". Cash in on a golden melody with "Fool's Gold" and then hear Pete tugging at the emotional heartstrings on "Dancin'". Next, kick back and head on "Down The Line" where you will run into a finely-constructed, audible zone. Get ready to sing out loud and brace yourself for a "Long Night" that is both fun and melodious. The wait is over on "Waiting For You", which holds much purpose and meaning backed behind Pete's gripping performance. Pete ends with one strong bolt of "Lightning" by delivering a big & bright spark of energy.
Pete Bernhard touches on many aspects of life on this album and brings to US lyrics and music that we can ALL relate to. 'Harmony Ascension Division' is a very strong effort from Pete Bernhard and would say many of his folk heroes would be quite content with this record. This artist sings and performs with such conviction where you will immediately gravitate toward the catchy sounds of 'Harmony Ascension Division'.
https://www.petebernhard.com/music
By Jimmy Rae (https://twitter.com/2JRae)