Rambunctiously bustling out of the speakers like few other bluegrass songs you'll hear this year will, "Down In The Wildwood" introduces Steve Thomas & The Time Machine to the world with a melodic wallop as crisp as it is colorful. The magic is just getting started as the band digs into this aural festival of grooves that precede the title cut in their debut album All Of These Years, and as we get further along in the record, their intentions start to become obvious to all within earshot. Whether they're cutting up fun 'grassy beats in "I Wonder Where You Are Tonight" or getting experimental with some Kentucky harmonies in "Daddy's Twin I-beam," this band is committed to getting us swinging – one way or another – in 2020.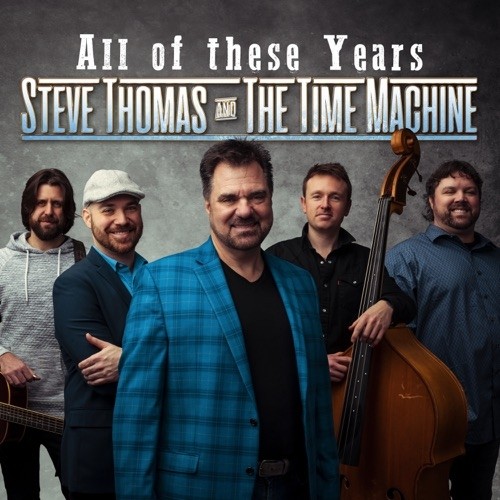 URL: https://www.stevethomasmusic.net/
"Daddy's Twin I-beam" is, for lack of a better term, a country song played by a bluegrass band, but its tracklist neighbor in "Since Love Came Around" is much harder to define using plaintive genre terminology. The folky elements in this song are refined into 'grass-style stampeding in "Lucky Man," but in either tune, there are more textures and tones coming at us from the instrumentation than most will know what to do with. This isn't to say that All Of These Years descends into chaos around the midway point; honestly, it's more that Steve Thomas & The Time Machine aren't afraid to let us know just how ambitious a unit they can be when there aren't any restrictions placed in front of their studio time.
"Rocky Road Blues" throws a little bit of delta dirge into the pot with the standard bluegrass elements for a hybrid that could really shake up Branson the next time people are allowed to congregate and hear new music. Though not as top-heavy as its predecessor, "My Heart Is Always Headed Back To You" definitely has as much sonic weight as any of the songs here if not a touch more where it matters the most. While "Far Far Cry" and "The Moon Over Georgia" are flipsides of the same coin, "The Rat Race" prepares us for the conclusion of the album with fragmented melodies subsequently forming a blushing hook that is just downright sexy from start to finish. There's something for most everyone here, and that definitely can't be said for a lot of the LPs charting well in country music this May.
APPLE MUSIC: https://music.apple.com/us/album/all-of-these-years/1500647297
We reach the finish line with Steve Thomas & The Time Machine's All Of These Years in "We'll Meet Again Sweetheart," a song that both literally and figuratively gives us a lot to hope for on the horizon of this young band's budding career. Bluegrass is, for all intents and purposes, on the verge of a culture-quaking comeback that critics can't seem to stop talking about in 2020, and independent groups like this one are the primary driving force behind the movement. Thomas and his band are delivering 'grass to us the way it was always meant to be heard, and they're going to see plenty of reward for their work as the years go by.
Gwen Waggoner