I've had the pleasure to review Fabp's music many times now and one thing is for certain; consistency. Fabpz the Freelancer consistently turns out raw, unfiltered tracks where I picture a mad, hip-hop scientist in his lab brewing up killer combinations of beats & hooks. His latest release is titled 'The Devil's Dream Dossier' and must say is his most suspenseful piece of work to date. The listener will experience a confounding sound that comes complete with plenty of truth & wisdom.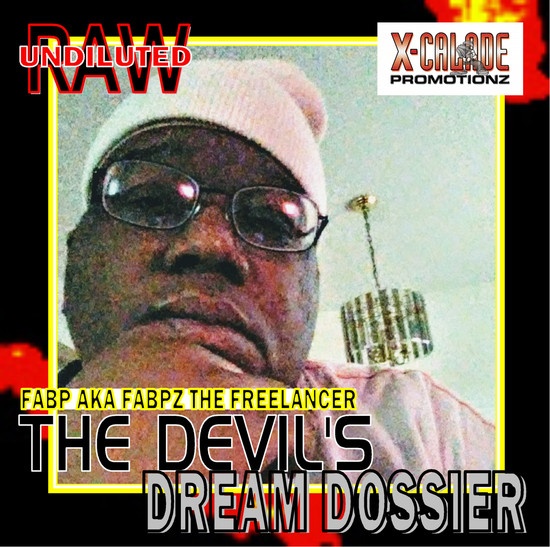 Audio Listening Link:
http://x-caladepromotionz.bandcamp.com/album/the-devils-dream-dossier-explicit-fabp-aka-fabpz-the-freelancer
I have to mention a detail that is striking to me and that is that each song on this album has a running time of 04:58 & 04:59 with one exception at 04:57. It's also worth noting that the last album I reviewed, 'For Tha Crown', has the same, exact formula! If by design, I just wonder what the method to Fabp's madness is with this intriguing concept. Whatever the case may be concerning that matter, I can honestly say that 'The Devil's Dream Dossier' is not an open book and will take an in-depth, attentive listen. The record starts up with "I'm Flashing I'm Bashing" where you are welcome to enter the Freelancer's "Twilight Zone" of beats & rhymes. Next up is "Deal With She" that offers a sinister-sort-of element to go along with an Underground sound from all around town. Track three, "Ms Fly Girl", will have you ringing the bell for a KO punch and one tight flow from the NYC artist/producer. Fabp is marching to the beat of his own drum machine on "Left to the Right" where one will hear an aggressive tone and finely twisted vocal approach. Track five, "The Answer The Answer", displays Fabp bringin' the heat and steppin' up to the plate showing complete control with no restraints. Spread the "Breaking News" that Fabpz the Freelancer is at it again and then catch Fabp bustin' loose with a bit of mystique on "Inside My Dossier". Track eight, "The Backlist Ish", has Fabp coming at ya with a no-holds-barred performance followed by "Life of the Clash" where you don't wanna mess with Fabp because he is on fire and in the zone. Track 10, "Dolly Choose Me", will have you saying Good Golly Mr. Fabp on this golden song and then you will step inside and go for a ride on "If You Drink". On this number, you will want to fully consume this groove with the Freelancer urging people to "be safe" and to "drink, don't drive". The Freelancer goes out with a bang on "Have and to Beep" where Fabp is pretty much proclaiming to get the hell out of his way or you're gonna get run over. This super original rapper/MC is practically yelling out: BEEP, BEEP MotherSuckas, I'm Fabp aka Fabpz the Freelancer and I am here to stay & dominate!
Fabp's latest creation stays true to his underground roots with audio that can't be duplicated. Fabpz the Freelancer is authentic to the bone and 'The Devil's Dream Dossier' is no exception to this rule. Fabp is taking basement hip-hop to a whole other level as 'The Devil's Dream Dossier' is jumping out and about to surface. What you hear is what you get and what you get is Fabp aka Fabpz the Freelancer in his truest form…No compromises!
https://www.instagram.com/therealfabp/
&
https://twitter.com/TheRealFabp
By Jimmy Rae (https://twitter.com/2JRae)