So here I am up @ 5 am on a Saturday – but if I am to enjoy Memorial Day weekend on this beautiful day in New England – I gotta do it. Anyways I got some music for you to play if you are going to be inside in quarantine or taking in cold beer and hot dogs outside – my guest PK and the In-Betweens from the eclectic state of Pennsylvania. Paul Kleinert has been making music way before Spotify was streaming – for about 22+ years. He now has got inspired to unleash his new band – PK and the In-Betweens – out to the world and where better than @skopemag. So lets get right to it – enjoy!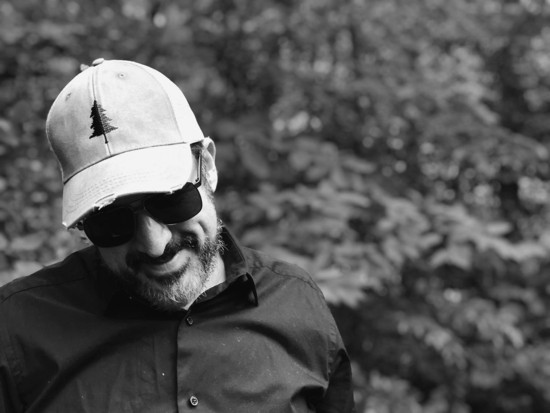 @skopemag: Where are we talking from today and how has your life been effected by COVID-19?
PK: Hello! I'm here in the beautiful Lehigh Valley, PA just an hour or so north of Philadelphia. Like everyone else in the world, home has become the office, movie theatre, concert venue and favorite restaurant all rolled into one!
@skopemag: The music industry has been effected by COVID-19, especially the live sector. How do you see live music from local venues to large arenas in the months/years to come?
PK: I'm hopeful…I can't imagine a world where we don't gather to celebrate and experience music collectively. Until we get there maybe things look differently for a spell…less than capacity rooms, theatre type shows, venues may put tables spaced where fans used to pack in shoulder to shoulder. I see venues selling tickets for live streams of shows to make up for some of the lost revenue due to less than capacity rooms….best of both worlds…live show with live fans, streamed to your living room. I've been thoroughly enjoying some of the Stageit, YouTube, Instagram shows and I think fans might find that to be an appealing way back to the full on live concert experience.
@skopemag: What makes Paul Kleinert the perfect band leader and what inspired the creation of the PK and the In-Betweens?
PK: Well this is pretty much a solo project and I'm happy to say I'm getting along with almost everyone! It had been a lifetime since I had played and had an active band but I just couldn't shake the music bug. I missed it deeply. My old band, Waiting For Rain, was a tight knit group of friends…co-founder Jeffrey D Larish and I played together in high school. So it was really a leap of faith to go into the studio with some songs without a supporting cast for protection. When it came to naming this project, even though it was a solo project, I wanted a band name…a classic throw back and homage to some of the greats.
@skopemag: When Paul was looking for other musicians for the band – was it a simple process or did it involve trying out various like minded folks?
PK: It was really a "meant to be" sort of situation. I had some ideas and some friends of mine who were possibly going to help out, but timing and the recording situation didn't really work for that. I knew I wanted to work with Brian (producer/engineer) again and as we talked and sketched out a game plan, he was able to line up some of Philadelphia's finest to form the first official studio line-up of The In-Betweens!
Brian's knowledge, instincts and connections are top shelf…the people we gathered were meant to play on this record.
@skopemag: I have been to Philadelphia once – tell us a bit about the music scene and how you all help and support each other musically?
PK: I haven't actively played in a long time but I have some wonderful memories of the Philly music scene. It's a great music town. The fact that Brian called some friends and they all showed up in force tells ya a lot about the spirit of brotherly love!
@skopemag: I recently heard the two new singles 'One By One' and 'Almost.' How long did writing / recording of these tracks take and what studio did you use?
PK: Both of these songs were of the 20-30 minutes and done variety as far as writing. Songs come from many different avenues..sometimes they take months or y
ears to fully form. They linger until they are familiar enough with you to fully reveal themselves. These two came quickly.
"One by One" was actually the result of a song writing exercise I was trying. I sat down to purposefully write a sequel song to a song I had written years ago. The song in question was something I wrote back in my 20's…a song called "There you Are". It's a raw, upbeat and innocent love song: "My little town is a little blue, I'd paint it red for you. My little heart is torn in two, I might be the one…for…you." This is that same guy and girl 25 years later after a lifetime of living filled with all the joys and regrets that come with it.
We recorded a lot of the record in Brian Bricklin's Home Studio Marigold Junction. We recorded guitars, drums and most vocals at Retro City Studios in Philadelphia with Brendan McGheenan at the engineering helm.
@skopemag: How was your synergy with – Philadelphia Engineer/Producer Brian Bricklin – and how does he enhance the final product of music?
PK: Imagine a police sketch artist that is part 'DaVinci and part Monet'…that's Brian. He captures the details that matter while painting emotion/feeling at the same time. The hardest thing for me as a writer has always been to express the sounds and emotions I'm seeing/hearing in my head. To capture something that only exists in your mind and transform that into bits of audio data to be heard by others is nothing short of magic. This project does not exist as is without Brian. He was also so kind, caring and supportive and that meant the world to me. I had never really gone into the studio without the protection of a band, that built-in support system that is desperately needed, and he played that role as well. Can't wait to get started on the next record with him!
@skopemag: What life scenarios most inspired you to create and write music?
PK: I started writing in middle school/early high school. Music captured my imagination and became a way to communicate thoughts and feelings that I didn't know how else to express. I was lucky to find some kindred souls who found the same mystic solace in music and those friendships grew into bands and bands grew into friendships. Writing is like acting, you get to step into a role and tell a story…sometimes the story is yours and it's not all that veiled, but it feels more acceptable and a bit safer to share in song.
Spotify –
https://open.spotify.com/album/3wMRZnMpEiE0C5B6gS0iMV
SoundCloud –
https://soundcloud.com/pkandtheinbetweens/sets/a-lifetime-of-almost/s-YONZE
@skopemag: I really am playing 'Almost' on repeat here in my office. Offer us background on the meaning of that song and how the songwriting reflects that?
PK: I am thrilled to hear that you have it on repeat!! Thank you!! The genesis of that song came from a text thread with a couple of friends of mine. A buddy of mine responded "I have a lifetime of almosts" in response to a missed opportunity we were chatting about. That was it…I fell in love with the line. I sat down with the guitar and 20 minutes later Almost was pretty much done…it came fully formed. At my age it was pretty easy for that one to write itself. That was the moment I decided I wanted to go back into the studio.
I guess this is me imagining the guy from Springsteen's "Glory Days", watching a Rocky marathon with Mike Campbell and Tom Petty. Hopeful, wistful and still fighting.
@skopemag: Looking out one to two years from now – what is your vision for PK and the In-Betweens and how do you plan to get there?
PK: I hope to be back in the studio in the coming year to make another record and keep spreading the word one listener at a time. This record was really something I needed to do for myself…I'm very thankful that people are listening and I hope it resonates!
@skopemag: When you are not making music, what else do you have going on – hobbies, family, etc?
PK: I am a full-time High School Economics teacher and during the school year I am ALL in. I love movies, live music and a killer meal. My wife and I love to travel in the summer to any place with mountains or water!
@skopemag: Social media is crucial in 2020 moving forward – what platforms do you use to promote and gain new fans for the band?
PK: Up until this project I was pretty much dark in the digital domain. You can find me on Twitter, Instagram or my website…still building these so stop on by, the water is warm and there is plenty of room!!
https://pkandtheinbetweens.com/