Sean Hobbes' single, "They Never Told You," is an atmospheric ballad. Yes, it's a type of piano ballad, but it's more than just that. It opens with what sounds a little like wind sound effects, before the piano part kicks in. Hobbes sings this lyric with a soulful vocal that sometimes resembles Stevie Wonder. Although it builds tension at its chorus, this song also stays at a consistently measured pace. It's meditative and reflective, rather than an exercise in creating sonic momentum.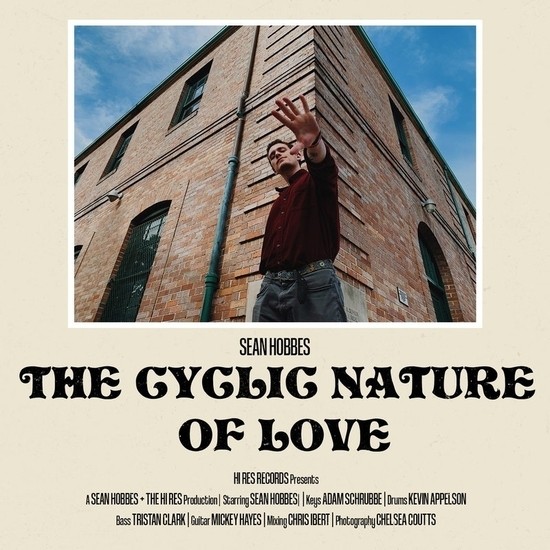 Lyrically, this song, which is taken from Hobbes' The Cyclic Nature of Love, is somewhat difficult to interpret. It sometimes sounds like a sad breakup song. "Listening to you now, not holding your hand," suggests a relationship that no longer includes a romantic element. However, much of the rest of these words are more philosophical than romantic.
Streaming:
https://open.spotify.com/track/3kHElBF5SPIRekYhCl4o5V
Whatever the inspiration for this song. At one point Hobbes sings, "Every other day I'm losing my mind." He doesn't say this in a joking way; instead, he sings it like he means it. Although Hobbes has been described as a blue-eyed soul singer, somewhat in the mold of artists like Bill Withers and Sam Cooke, this song is far more Withers-y (thoughtfully introspective), than it is Cooke-esque (mostly straightforward love songs). He's based in New Orleans, which is an appropriate place for a modern-day soul artist to reside.
In one respect, it's admirable how Hobbes is able to express intimate details in this relationship. Being this vulnerable can't be easy – especially when one's innermost thoughts are sent out to the wider public in song. However, the more detailed and personable the lyrics are, the less relatable these words can sometimes be. We don't know who Hobbes is talking about, and to paraphrase an old magazine advertising slogan, 'inquiring minds want to know.' The song might be taken as a sort of tease. Hobbes is only telling us so much; the rest we'll need to guess or attempt to interpret. A more generalized lyric may have given this song more universal appeal. Nevertheless, Hobbes is keeping the names involved close to the vest. It may feel relatable, in some regards, but it's really not.
The project's title may give us more clues. The Cyclic Nature of Love suggests a song cycle that explores many of the different angles of love. This song, then, may make even more sense within the context of the album.
Even if this song's words beguile you, more than inform you, the sound of Hobbes' voice is worth the listen alone. This track is a relatively slow one and makes one wonder what Hobbes sounds like when he fully opens and really lets loose. He certainly is soulful, and it's easy to imagine this voice coming through the radio. There will always be an audience for sincere soul music, like "They Never Told You." The artists that keep coming to mind while listening to Sean Hobbes are Hall & Oates. Not the MTV-era Hall & Oates, but that duo's earlier, 70s era. Back then, they were also described as blue-eyed soul, but were also categorized as quirky singer-songwriters. In the best sort of way, Sean Hobbes also straddles that unusual artistic line.
https://facebook.com/seanhobbesmusic
-Dan MacIntosh