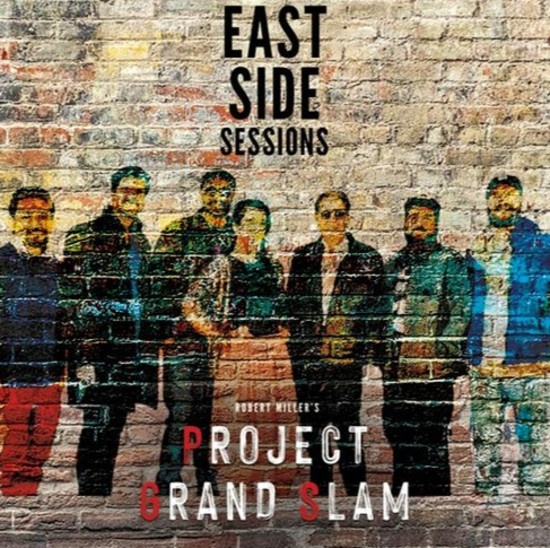 Littered with a startling number of distorted guitars, sensuous sax, robust beats and pop hooks, suggesting that Project Grand Slam's new album East Side Sessions is anything less than a sonic tour de force of the more diverse variety simply wouldn't be true. From the moment that the grinding guitar-driven harmony in "The One I'm Not Supposed to See" comes barreling out of the speakers up until the final bow that is the country/jazz "The Pardners," we're forced to the edge of our seats by rhythm, rhyme and melodicism alike. Through the jazzy swing of "It Don't Matter," galloping grooves of "I'm Falling Off of the World" and into the balladry of slow songs like "Juliet Dances" and the humble "Tessa," Project Grand Slam sound as cohesive as ever, and arguably more in touch with their experimental side than they were in previous incarnations. In contrast to the adrenaline of their last couple of releases, Robert Miller's fabled indie unit take a relaxed approach to jamming in East Side Sessions, ultimately producing what could be their most hypnotic outing thus far.
TWITTER – https://twitter.com/ProjectGrndSlam
Whether it be "Constable on Patrol," "Hey Jake," "I Wanna Be Your Girl" or "It is a Miracle to Me," the arranging in this record is absolutely top notch. East Side Sessions is an exquisite example of what great composing and unfanciful harmonization can yield when the only expectation among musicians is passion, and you don't have to be a jazz fan to appreciate its many treasures. "The Pardners" is a country song that gets a reworking from a group of jazz-crazed masters of the craft, and despite its abstract placement at the end of the tracklist, this tune strangely caps off the deluge of delicate melodies preceding it rather perfectly. As always, Miller's bass is the driving rhythmic force in all of this record's highlights – "It Don't Matter," "The Week" and even the single "I'm Falling Off of the World" sport some of his sweetest lines in years. The verses, conveyed here by Marilyn Castillo (replacing the incomparable Ziarra Washington on lead vocals), are a bit postmodern but constantly evocative, and through this young woman's powerful presentation, as much a contributor to the underlying narrative as any of the instrumentation is.
DSP – https://soundcloud.com/user-450903754/sets/east-side-sessions-1
If East Side Sessions is a sneak preview of what the next phase of Project Grand Slam is going to look and sound like, they just might find even more success in the 2020's than they did the 2010's. Robert Miller assembled a spellbinding collection of musicians once more for this most recent trip to the recording studio, and while they're firing off a slightly different style of play than previous LPs offered, I think the resulting sound is going to sit well with hardcore fans as much as it will critics. East Side Sessions is a fantastic acquisition for jazz lovers, but more importantly, it's a fun listen for anyone who has been feeling a little jaded with the current state of mainstream music. Indie aficionados particularly – this is a top spring pick.
Gwen Waggoner