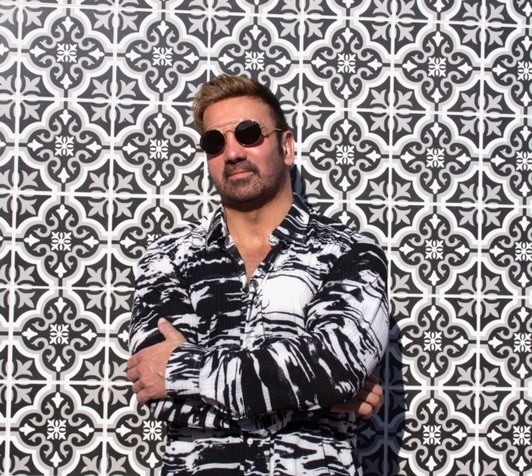 by Nick Christophers
Sometimes, and its rare nowadays, that we come across a refreshing album that lifts our spirits that harks back to a time where love was the main ingredient in music. Adult contemporary rocker Rob Alexander has found the recipe to give us that feeling again. Rob is not your regular rocker either, his main gig is being an anesthesiologist and a rocker on the side. It is a large plate he needs to fill on a regular basis but he has managed to do it.
"It's not easy balancing between medical practice as an anesthesiologist and music, but I tend to write many of the songs after work when I get home from the hospital. I find that my mind is relaxed and it's easier to come up with ideas and melodies. During my vacation time from work, I travel to LA and coordinate time in the recording studio with the band members and producer Gabe Lopez."
Music as always been a strong element in his life and a road he wanted to pursue. Even though he was not a skilled musician he knew he had the ability to write lyrics. His method may be a bit "old -school" but it works. He normally sings the melodies in his head into a recorder and works them out with his producer Gabe in the studio. Rob knew that the steady income from his medical practice would offer him the resources to invest into his passion for music.
To make his second project "Being Myself" even more special he recruited three musicians who are from the Elton John camp – Matt Bissonette (bass), Kim Bullard (keyboards) and John Mahon (percussion). It is almost no surprise that his music style has been compared to the legendary Elton. He also brought in guitarists Kevin Taylor and Robbie Angelucci. Rob was sure they would connect with his type of sound and it was a match made in heaven.
His recent project was dedicated to the most powerful word in the world "LOVE". It covers love that is either lost, gained or just the search for love. One good example of a track that expresses that emotion would be "Never Gonna Let You Go", which is the first single off the album. That specific track was written after a dear friend of Rob's passed on unexpectedly. The other personal track for Rob was "American Love Song" which also touched on the passing of his close friend, Kevin. Even the lead song "Being Myself" was close to his heart since it was about himself an anthem of self-acceptance and not letting anyone's opinion control you.
His previous album "Long Road Coming Home" was more of a trip to find his identity in the world. That album yielded five singles that received mainstream attention nationally. At the moment Rob is not planning any tour for the current album but he is planning to release a new album in 2021. That one he is looking to take on the road and promote. He will need to work out a schedule that would work around his busy medical practice. If you're looking for a taste of a classic rock infusion with a modern twist "Being Myself" would be the best medicine.