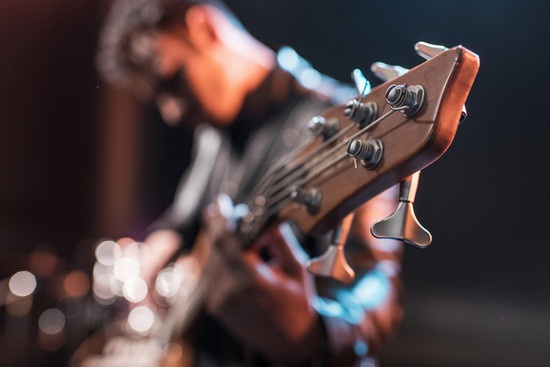 Every musical career includes a lot of sacrifice and practice. Challenges and temptations that successful musicians face daily sometimes turn out to be quite a burden. That's why it's vital to develop constructive lifestyle habits on time. This approach will help keep you strong both mentally and physically throughout your career.
Here are seven lifestyle habits that should help you become and remain a successful and committed musician.
1) Playing every day
Successful musicians have paved their way to success with a combo of talent and diligence. Of course, there are other variables in this formula, but these two are the foundation of a solid musical career. Committed practice and natural talent are two essential prerequisites that give birth to renowned instrumentalists and singers.
So, if you're an amateur musician striving to improve your playing skills, seize every day. Leave your instrument at the reach of your hand and play it when you feel inspired. For instance, if you play guitar, you want your instrument on a stand, always within your reach, rather than stored away in a case. Otherwise, you might feel the urge to practice your instrument but the feeling will go away before you take it out of the case.
What's also important is to practice your instrument with intention and mindfulness, rather than on autopilot. In other words, committed and focused practice is more important than the time spent playing the instrument. It's better to play for half an hour with your brain completely immersed in your practice than just producing notes while your thoughts are somewhere else.
The takeaway: focused and regular practice instead of long but mindless sessions.
2) Relying on feedback
Being a successful musician means showing respect to both your fellow musicians and your audience. One of the best ways to show that you care about their opinion is to consider the feedback you get from them.
When you're still an amateur musician playing at gigs or smaller concerts, search for comments after each gig. Thanks to social media, it's now easy to do this. Feel free to ask your followers and friends what they think about your performance.
You can do the same thing on your YouTube channel, both for live and studio versions of your songs. Naturally, the feedback left by fellow musicians will have higher significance in terms of the quality of performance. However, the comments your fans leave regarding the vibe you've emitted during the concert plays an important role for other reasons. Your audience will recognize if you take their opinion into consideration to improve your live performance.
The takeaway: consider colleagues' and fans' constructive feedback, but ignore haters.
3) Learning from better musicians
Musicians (and artists in general) need to expose themselves to others in their field. Learning how to play an instrument via tutorials is one of the most efficient ways to improve your skills fast. Using software solutions, such as Guitar Pro and other recording tools is also a practical way to learn the basics of production and recording.
However, you'll come to a stage when your progress using that methodology is going to be slower and slower. That's the right time to go out and play with real people. And even though it can be challenging for your ego, you'll learn more if you play with musicians who are more skillful than you.
Many successful musicians formed their bands in high school or at university because they were more exposed to people during those periods. If you start performing and creating music with other people on time, it will become your lifestyle for good. Afterward, you'll be in touch with other musicians by the nature of your job.
4) Performing with love
When Eric Clapton or Bruce Springsteen perform live, you can see in their eyes that they still play music with passion and love. Even though they have become rich thanks to music, money came afterward. It was the emotional zeal that made them such successful musicians.
Ignore the prejudice that people have about certain music genres. Listen to your heart when it comes to the type of music you want to play, and remember that it's not necessary to be a virtuoso to create music saturated with emotion and groove. After all, John Lennon was an average piano player and yet, he wrote "Imagine," one of the most influential pop-rock songs ever made.
The takeaway: play your instrument with love and passion in the genre that gives you thrills.
5) Accepting music as work
Becoming a successful musician means accepting music as work. You may think that this contradicts the belief expressed above, according to which a musician needs to be driven by passion for their music, but in fact, these two statements aren't mutually exclusive. If you've found yourself in a certain music genre, the next step is to think of yourself as somebody who likes what he/she does for a living.
After all, not too many people get a chance to make a living by doing something they really like. This lifestyle will probably take you to different parts of the world, enable you to meet all kinds of people, and make some cash along the way.
The takeaway: understand music as your vocation and use all the joys it brings, as Stevie Wonder would say.
6) Regular physical activity
When you've set your mind to the desired parameters for inspired and committed performance, it's time to take care of your body.
The times when music stars were wild, crazy, and out of boundaries are behind us. The music industry has come a long way and has become a lucrative field of business. Managers and producers pay attention to PR and reputation management as well.
Today, many musicians lead a healthy lifestyle, based on regular physical exercise and proper nutrition. Even if you compare Mick Jagger from the 1960s and Mick Jagger from the 1980s, you'll see two different persons. He became a promoter of a healthy lifestyle and quit taking psychoactive substances.
Bruce Springsteen claims that a regular workout routine has helped him stay focused throughout his career. Since he's been struggling with depression for decades, staying consistent and physically active helped him overcome some difficult periods.
The takeaway: introduce regular physical exercise several times a week to improve your physical and mental wellbeing.
7) Balanced, personalized diet
Increasing the level of your physical activity needs to be accompanied by a balanced and personalized diet. Musicians often have long tours and concerts day after day. Young musicians sometimes have two or more gigs in a single day.
Instead of turning to alcohol and other harmful substances for a fleeting energy boost, it's better to change your diet.
For starters, avoid white-flour pastries and refined sugars. Instead of sweets, take fruit and nuts between meals. If you've noticed any problems with your digestive system or the immune system, it might be the right time for a more rigid change of eating habits. In that case, following the autoimmune protocol diet is a smart thing to do. Eating in line with the rules of the autoimmune protocol will help your body get more energy and decrease the intake of harmful ingredients.
Final word
Being a successful musician means leading a dynamic lifestyle. Concerts, travels, and parties require a lot of self-discipline if you want to stay on the right course. Our tips will help you adjust your lifestyle so that you can successfully respond to all the demands of a life on the road.