Call Hot Shot Kixxx a rock band, and they won't argue. They're certainly ferocious enough: the overdriven guitar riffs sting, the drums rattle and pound, and the inimitable, unforgettable shriek of singer Juan Villalobos bespeaks hours spent in a practice room, battling it out with amplified instruments. The three members of Hot Shot Kixxx cut their teeth in rock clubs, thrilling audiences with the intensity of their attack and the uncompromising nature of their performances.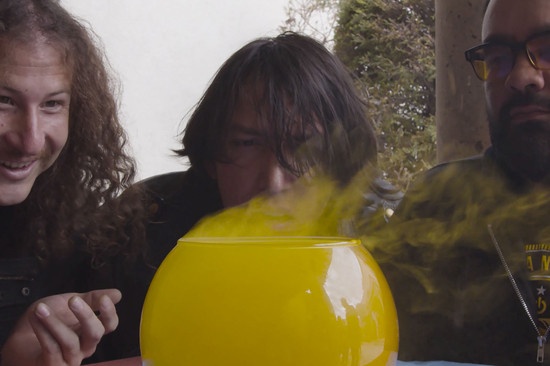 But there's more to the trio's style than rock alone. Desert blues, leftfield experimental stuff, rubbery funk, wigged-out psychedelia, and hints of regional Mexican and dirty roots music, too: it's all present in the unique sound that Hot Shot Kixxx has fashioned. "Tadpoles," their latest single, makes the outfit's restless brilliance manifest – it grabs the listener and takes her on a ride through twists and turns and vertiginous drops. In its unpredictability and its kinetic force, it's well-representative of the songs on Devils At It Again, the band's wonderfully unorthodox, utterly fearless new album.
It helps to know where these guys are coming from: El Paso, TX, a true outlier, one of the weirdest, wildest, least-appreciated metros in the United States. El Paso is a town of hybrids and high-speed collisions – the beginning of the West, the sharp and pointed end of Texas, and one of our primary national interfaces with Mexico. It's always been a town of amalgams and brave experiments, and Hot Shot Kixxx represents its renegade spirit perfectly. And El Paso loves Hot Shot Kixxx right back: they've become genuine hometown heroes and carriers of the rare local artistic tradition that deserves to be called international in scope.