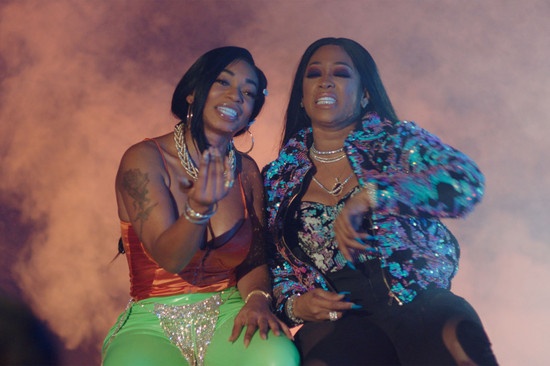 Over the past few years, female rappers began to dominate and establish their presence in hip-hop. Women introduced a different type of heat and flexed their accomplishments rightfully so. Dyamond Doll is the one to keep an eye on; she was a wholly independent artist who made a name for herself in the cutthroat Miami scene due to her persistence and diligence. Her vigor paid off when she met a member of Dark Boy Records who took her under his wing. The 27-year-old has performed locally at Reggae Festival, Club Liv, and Club STORY. Dyamond Doll came out swinging and is using the momentum to accomplish her other projects, including an EP, album, and possible clothing line.
Trina stepped into the male-dominated hip-hop world in 1998 and pushed them aside to make room for herself. She's not just an artist; she is also a businesswoman. She learned never to put her guard down and hustle 24/7. Although the two rappers are at different stages in their career, it only makes sense for them to link and represent their city as a powerful pair.
The girls come in hot in their music video for "DWADE"; the unapologetic and shameless opener sets the tone for the rest of the clip. Dyamond Doll, Trina, and their backup pay homage to the illustrious city of Miami by flaunting the notorious neon club attire, glamorous nightlife, and iconic waterfront. Dwayne Wade, aka "D Wade," is a successful Miami Heat basketball player who prospered throughout his 16-year career. The duo tributes him with audacious confidence: the high-end brands, exclusivity, and endless cash flow have the two on a posh level most don't know about.
Who needs modesty when you've attained so much? Even Wade showed love to the single by posting a video on Instagram of him jamming out to the track. His wife, Gabriel Union, also shared the song on her social media pages. Dyamond Doll and Trina embody the ostentatious Miami dream so effortlessly, and this track has raised the bar for Miami music standards.
https://www.instagram.com/dyamonddoll/