Lola Rising opens its Moving Forward album with "More Music," which includes the lines, "We need to write more music/We need to plant more seeds in the ground." This is a definitively forward motion couplet, which supports the project's simple two-word title. These words are also put to a pop-reggae beat and accented by a horn section. It's a positive and upbeat manner to kick off this six-song effort.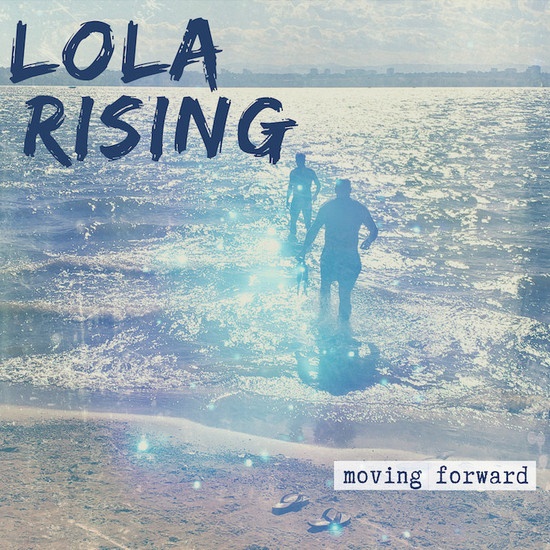 The group describes itself as "an Island Folk Rock Band also known as "Jahawaiian," that is ukulele driven with high energy melodic dance rhythms and soaring guitars." Now, that's a complicated sonic description! The group is from Colorado and has already shared the stage with some musical heavyweights, including The Wailing Souls, The Wailers and Matisyahu.
The next song is called "Gravity," which – despite its title – is a positive song. It begins, unusually, with an acoustic guitar intro. Lyrically, the song is a filled with encouragement. This track also includes a horn part and ends with that same acoustic guitar instrumentation.
"Praying For Red Lights" separates itself from what precedes it with a female lead vocal, one quickly joined by a male lead vocal. It incorporates a clipped electric guitar bed. It's a love song, which imagines a couple's future together. Although reggae grooves are built into the recording, reggae is only one part of the song's overall sonic structure. Once again, it shares as much in common with pop music, as it does with reggae.
Spotify: https://open.spotify.com/artist/1bfjieAWcjH0ge90G4fXAc
"Strands of Oak" begins with acoustic guitar and includes more plucked electric guitar that – at times – comes off a little like African electric guitar work. The song's words support unity when the act sings, "We all came from the same seed." The song also incorporates both ska and reggae dub elements, which give it plenty of variety.
"1943" might be the album's most unusual song. It's a quiet and thoughtful track that also includes a female lead vocal. It's nostalgic in a way, as its narrator longs have lived back in 1943, a time described as featuring the greatest generation. This was also the time of World War Two, and while volatile, also featured Americans living more unified and purposeful lives (seemingly more so than now). It's one unusual time travel dream, but also a believable one. This must have been an amazing time to be alive, with many events occurring that are simply impossible to forget
https://www.instagram.com/lolarisingmusic/
The album closes with "Summer Nights Dream," which is – for lack of a better term – a coming of age movie, put to music. Its lyric talks about sneaking out with a lover, like a teenager attempting to keep his sexual activities hidden from his parents. It's put to a lively, fun groove and even combines Mexican music with act's usual reggae sounds. It's a party song, and the collection's most exuberant track. It's a lighthearted way to close out the album.
There's a lot of happiness expressed with these songs. Like a lot of ska music, it's also nearly impossible to stay still while listening to them. Unlike dread serious Jamaican reggae, which speaks to the human condition and struggles for freedom, Lola Rising's Moving Forward, instead, celebrates life.
-Dan MacIntosh