Hip-hop has never been the happiest of musical genres. More often than not, it's expressed the sound of anger. Or it's been a good forum for rap artists to brag about such things as sexual prowess. Yet a sense of happiness is one of the factors that separates Emotionz from many other artists in his genre. His stage name (Emotionz, a personalization of 'emotions'), is a big clue that this performer from Vancouver, Canada is not at all afraid to show his feelings. And his album Gems, is – for the most part – a happy affair.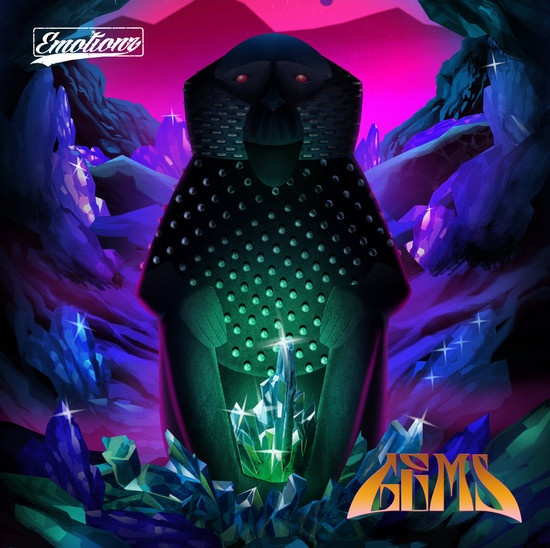 A couple of tracks, which come along right in the middle of this mostly positive project, expressly relay positivity. These include "Moments," with a lyric that encourages listeners to be mindful of whenever life is good. The track is built around a sparse groove, which – with its saxophone and electric piano – also has a jazzy flavor. Emotionz vocal tone is like Snoop Dogg, in how his raps are overtly conversational. "Moments" is followed by "Enjoy Thangs," which is another call—of sorts — to grasp pleasure whenever one finds it. This one, too, is a rather stripped-down instrumental track. On it, Emotionz reminds us all how the future is uncertain, so we ought to appreciate all the good while we can.
With one titled "Request Line," Emotionz goes for an old school soul sound. Lyrically, Emotionz uses the track to give shout-outs to some of his favorite rap artists, including LL Cool J and Redman. He also remembers when radio (hence the reference in its title to calling in and asking that a favorite song be played) was still king. This was before downloading and streaming. If you couldn't afford your favorite songs, you called in to your favorite radio station and asked them to please play your choice tune.
Streaming: https://open.spotify.com/album/0ujyZrs43tL2Jm3oJAF4An
Although Emotionz is not particularly political, "Pink Haze" (which also features Myka Nyne) mentions climate change in its lyric and the need for a more livable environment. It features Emotionz complaining about how pollution adds a "pink haze on the new horizon."
Musically, Emotionz has a wide variety of influences. These include newer sounds, like Daft Punk, but also old school inspirations, including Michael Jackson and Marvin Gaye. In truth, hip-hop is evolved R&B, and just as Jackson and Gaye pushed soul/R&B music forward – both politically and socially – it's clear Emotionz has many of the same aims with his raps. He also points to Gil Scott-Heron, who was a poet/musician that influenced (whether they realize it or not) every politically active artist. He was expressing raw anger and protest before hip-hop was even born and was a kind of rapper before we even had a stylistic name for what he did.
Emotionz's bio also mentions how he is also a graffiti artist. This reveals he is a well-rounded artist, expressing himself verbally and visually. It also shows how he remembers history, as rap music and graffiti evolved artistically at about the same time.
Although Gems is not a front-to-back 'happy' album, it nevertheless contains a higher happiness quotient than most other albums like it. And like literal gems, it also shines in many places.
https://www.instagram.com/emotionz
-Dan MacIntosh