Latin pop is getting a second life right now, and in my opinion, indie artists like Destiny Malibu are the biggest reason why. Though not a straight-up Latin pop singer by conventional standards, Malibu delivers one of the genre's most interesting new hits in her latest single "Lo Siento" that has been raising quite a few eyebrows in critical circles lately (but not without due cause). "Lo Siento" employs her skills as a rapper, melodic vocalist and urban pop temptress with rhythm and rhymes that demand a higher grade of performance out of anyone who would attempt to manage them, and in the end, she emerges from her latest trip to the studio sounding like more of a star than she ever has before.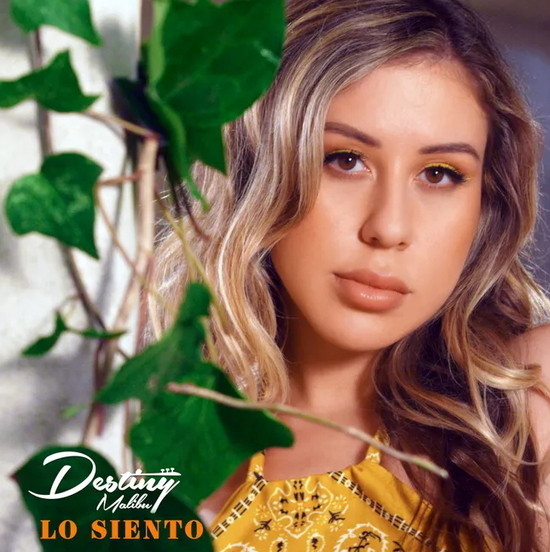 TWITTER: https://twitter.com/destinymalibu
There is a lot of muscularity to this master mix, but no real overindulgences with regards to the substance of the main melody in the song. "Lo Siento" captures a rare combination of danceable grooves and surreal vocal decadences inside of its three and a half minute playing time, and though it covers a lot of ground in the short period in which it occupies our stereos, the music here never sounds as though it were cut apart and refashioned for the purposes of making a radio-ready single. Destiny Malibu is accomplishing something in this track that a lot of her older contemporaries have spent years trying to figure out, and yet she doesn't sound even the least bit arrogant in this latest performance.
I've been hearing some great things about Malibu's stage show recently, and this song absolutely makes me wonder about what she could possibly dish out in the right venue to accommodate her skillset. She's got so much energy when the microphone is in her hands, so much unbridled enthusiasm for the beats which accompany her every verse, that if she were able to take this blueprint in front of a roaring crowd full of eager fans, she could easily become one of the more lauded live players in this emerging generation of new hybrid pop musicians. "Lo Siento" gives us a taste of fire that I want to see her expand on in-person some time, and if the hype around her work gets any more intense, I have a feeling I'll have the opportunity before the year is out.
Destiny Malibu came to my attention just a couple of months ago when I got word of her single "Sweet Persuasion" getting ready to drop, but in the short time that has passed between then and now, I've come to enjoy her approach to musicality quite a bit. She's got an originality to her artistry that is difficult for any pop lover to dismiss as being anything other than a diamond in the rough, and if there were any doubts as to whether or not she has what it takes to become a superstar before the release of "Lo Siento," I think they're going to be effectively put to bed as this track gets into steady rotation on indie radio this year.
Gwen Waggoner
The music of DESTINY MALIBU has been heard all over the world due to the radio plugging services offered by Musik and Film Records.
Learn more – https://musikandfilm.com