It isn't enough to look great. It isn't enough to drop hot records. It isn't even enough to be a TV and Internet star with a long list of credits. To acquire and maintain three million Instagram followers as a legitimate independent, you've got to grind hard. You can't take a day off: you've got to delight, surprise, and shock your audience continuously. This isn't a path an ordinary artist can follow, but Justina Valentine is far from ordinary. The Jersey-born singer, songwriter, and rapper is built for this moment in pop cultural history – a moment that belongs to the bold, racy, colorful, and the irrepressible. It's her day, and she's making the most of it.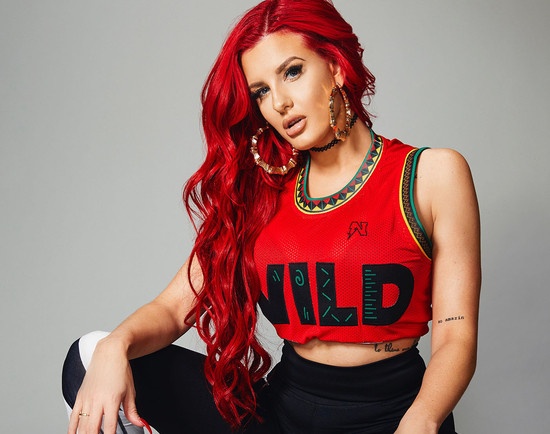 "Strawberry Soda," her latest single, is about as tasty as records come. The song rides in on a trap beat, and a hip-swiveling synthesizer, and crashes headlong into a hip-hop chorus that aims directly for the pleasure centers and hits the mark with a satisfying smack. As she always does, Justina Valentine owns the beat from the moment she begins rapping. As for her rhymes, well, we're not going to ruin the surprise for you. Just brace yourself for show-stealing wit and scene-setting detail, and more than a few lines that could make the most jaded rap fan blush.
The new track builds on the success of Favorite Vibe, the summer 2019 album that firmly established Justina Valentine as a musical provocateur with few equals. The video for "Damn," the sizzling lead single from that set, premiered on Substream, which praised her "impressive wordplay," her "undeniable star power," and her twerking skills, too. The tastemakers at Indie Hip-Hop agreed, calling her a "rhyme slayer" and a magnetic presence in front of the camera.
But we don't think she's ever been more alluring, more outrageous, or more energetic than she is in the "Strawberry Soda" clip. She also demonstrates her stylistic flexibility – not to mention her sense of rap geography – by snatching up men from all of the major metropolitan areas. That's Justina in a classic Californian car with a guy from Los Angeles, Justina in football gear with a New England Patriots supporter, Justina heating up the screen with a Miami boy, and of course, Justina with a roughneck from Newark, New Jersey. She issues the same challenge to all of them: Keep up with me if you can.