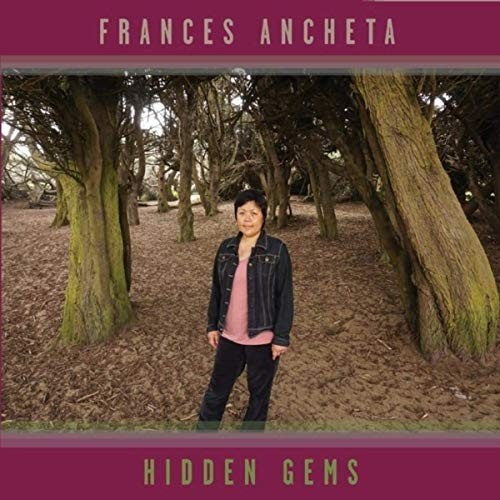 Frances Ancheta is a Filipina singer from the Bay Area. The sound on her album Hidden Gems is best described as folk music, as it's mostly little more than acoustic instrumentation and vocals. Ancheta is quite the gentle singer. In addition to folk strains, one can also hear touches of dream pop in her overall sound. With more of an alternative rock production, Hidden Gems could have sounded more like something on the edgier side of soft music. It seems however, Ancheta is too much of a musical traditionalist for something like that.
Lyrically, these eleven songs are mostly about relationships – romantic, or otherwise. One called "Time Will Make It Flow" is filled with words of encouragement. "It will get better," Ancheta sings during its chorus. Although it's unclear what might be going wrong in this other person's life, Ancheta wants him/her to know that, in time, things will work out. Ancheta sings with such a sweet, empathetic vocal style, you can't help but believe she knows the future, and that life will improve in a short while.
With "I Remember Your Face," Ancheta sings nostalgically about someone she recalls from her past. (Such songs are a recurring lyrical theme). "The First to Make Me Smile" has one of the album's most stripped-down arrangements. It features just Ancheta and acoustic guitar. It also looks back on someone Ancheta knew (loved?). Her words suggest she's lost touch with this person. "I hope you found the truth inside," she sings – in hopes this old friend/lover hears these thoughts, perhaps? This lyric suggests the subject of this song left Ancheta's life before she could tell this person how much she appreciated him/her. That's often the case with people in our lives; they move on before we say the things we really needed to say. Putting these thoughts and memories into song is one method songwriters have to address such unfinished personal business. "Now That You're Gone" is another one that speaks to someone from Ancheta's past. With all these similar sentiments, one wonders if Ancheta might be someone who is sometimes too timid to speak openly and honestly with those in her life. Otherwise, why would she write so many songs that find her looking back in her rearview mirror? Just an observation.
Audio Listening Link: https://open.spotify.com/album/580fqQT8Q7uiVTuFRdmpPU
One called "Little Critter" stands out from the rest on this album with its reggae groove. With clipped percussion and organ, its instrumentation and arrangement leave it sounding lot like Blondie's "The Tide is High." Lyrically, this is also a song of encouragement. The song's title (and chorus) suggest the subject of the song is someone Ancheta has known since he was younger (and smaller). Its world music groove is a nice touch. In fact, Ancheta's album would have been even stronger, had she included more such variety.
https://www.instagram.com/francesanchetasongwriter
Hidden Gems is an album of pretty, gentle music. Its gentle because anything Frances Ancheta sings, comes out soft and sweet. She's likely the same way in person when she speaks face to face. Thus, these songs are a natural extension of her personality. She's likely also non-confrontational. With its jazzy, folky vibe, Hidden Gems is a sweet collection of musical thoughts.
-Dan MacIntosh