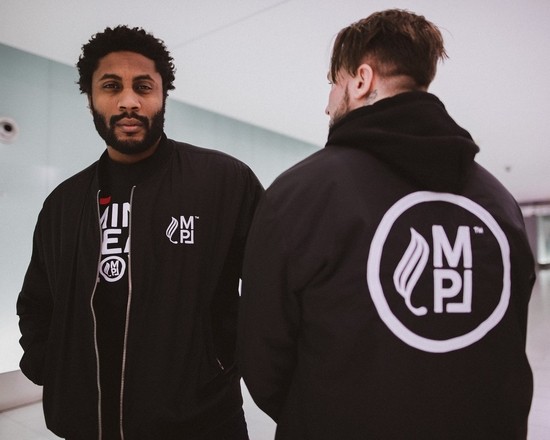 An angry strum of the guitar wakes up the implied beat in "Keep On Fighting" like almost nothing else could as we listen in on the opening bars of Jonathan Emile's fourth studio album, Spaces-in-Between. It doesn't take very long for Emile's honeysweet vocal to find its way into the fold and strike up a harmony with the acoustic strings in the foreground, much as it will with the kaleidoscopic grooves of "Savanna" and the balladic keys of "Canopy" only a few minutes from now, and before we know it, we're already a couple of songs into the tracklist. Hypnotized by the velvety voice sitting atop the color-drenched instrumentation in these songs, and soon after, "Canopy," we're powerless to do anything other than embrace the glow of the rhythmic rhymes Emile is dispatching with unearthly ease.
URL: https://www.jonathanemile.com/
I don't know if it's the presence of the incomparable Ezra Lewis or the darkly addictive beats of "More Than You Know" that makes it one of the sexiest songs I've heard in the month of February, but in either case, it's an impossible composition to forget, and even though it's placed right next to the enchanting "Liberation (featuring Chanda T. Holmes)," it holds its own in this tracklist just fine. "Babylon is Falling – 3.0" is the most generic song here, but with that said, it too is bursting at the seams with more of a bold musical rebelliousness uncommon among contemporary reggae output; contrarily, "Rock & Come Over" is a yet another jewel in the treasure chest of songs Jonathan Emile has released to his credit in the last decade.
GOOGLE PLAY: https://play.google.com/music/preview/T6rl77hcmqarnidilmpa6phccbm?play=1&u=0
Spaces-in-Between's two singles, "Try a Likkle More" and "Moses," round out the album with exceptional – though mightily conservative – theatrics influenced more by Jamaican mento than the other songs here are (save for "Keep On Fighting"), and despite there being nine powerful numbers to precede them, I think they're the best tracks on the LP by a mile. "Moses" is the simpler of the two; in "Try a Likkle More," we get a glimpse into a concept for making ethereal harmonies that I just have to hear more of in future recording sessions. In summary, this wasn't the first time that I reviewed Jonathan Emile's work, and as long as he keeps producing swanky records like this one, it absolutely won't be my last. Spaces-in-Between is, for all intents and purposes, a turning point that you should be spinning in 2020.
Gwen Waggoner