Even if you don't place any dedicated importance to your bathrooms these still are a part of your house and might it be added here an important one as well. So, if you have decided to renovate your bathrooms this year but don't want to fuel any unnecessary finances on it then you have come to the right place. We have for you the most enticing and tested bathroom renovation ideas on a budget. But before we can jump into these you need to make a sketch of all the renovations that you might want to do or are important to be completed and then tend to the ideas mentioned in here.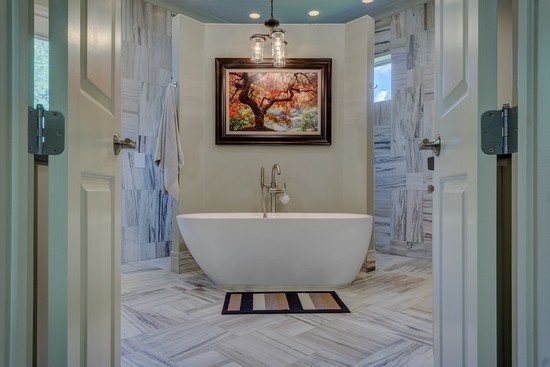 So, without further ado let's get right into it;
Limiting your tiles
Tiles are extremely expensive especially when these are planted hiring professionals, that is why you must only target the high impact areas such as floor of the bathroom and the adjacent walls from the door. It is also recommended that you go with the horizontal laying out of tiles instead of being vertical because this way you would use less tile and would be able to get the best effect on your money.
Save money on countertops
It is essential that you save money on the countertops, many would advise you that it is best to buy the granite countertops as these are the best value for money. But they won't tell you that you are also giving away your money for no apparent reason in pursuit of acquiring fancy and overpriced countertops. What you can do in this situation is to go for a wide color based hunt and choose from those which no one else would buy, but it is very important that you get the functional properties right such as getting a crack free slab to install as a countertop.
Renew instead of painting afresh
Here is a word to the wise; instead of painting afresh to give your bathroom a fresh and elegant look go for the repaint option, why you may ask? Well, here is why because it would cost more to start afresh and go from tearing the old paint first and then plastering the new one. You will not only save a lot of money in the process of repainting but would also save a considerable amount of time on not tearing the old paint first and vice versa.
Going with the repainting option would save you a lot of money but would also do the job for you intended to complete, which is to holster up a new look for your bathroom. It might sound convenient on the financial end to go for repainting option but it is actually going to be a lot difficult to pull off this job perfectly because you would have to paint very carefully on the sides, behind the windows, the sink, your mirror and on all the hidden ends as well.
These are some of the most valid options which you can come around given the fact that you are on a budget but if you aren't then still these ideas could help you to refresh your bathroom's current look.
If you are interested in more tips and tricks on bathroom renovations, visit victoriaplum.com now.