If you're looking for a well-versed singer/songwriter with thoughtful, finely-constructed compositions, then Bill Curreri and 'Hard Road Home' are your ticket! This highly anticipated record is set to be released on March 01, 2020 and I, for one, am psyched! 'Hard Road Home' is the third album for Bill Curreri and one of his strongest efforts to date. The material is top-notch, the musicianship & instrumentation, (guitar highlighted), is impeccable as Bill Curreri shows us what it feels like to take a chance with the 'Hard Road Home'.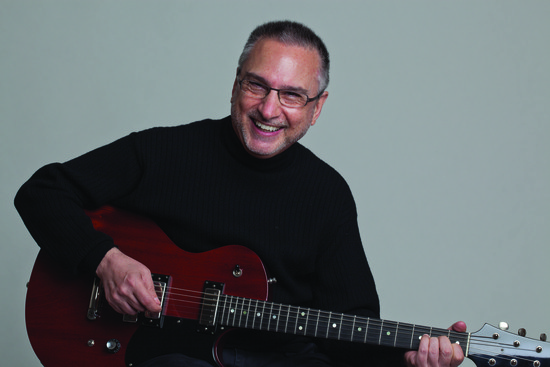 The album hits on all of life's ups and downs with the center of it all being on Bill's true love, Lydia. True feelings and raw emotions come pouring out of the singer/songwriter on 'Hard Road Home'. Bill Curreri is wearing his heart on his sleeve, to say the least, and hopefully Lydia is listening. I know I'm listening and what I'm hearing is pure magic! With influences that range from The Beatles, The Rolling Stones, Bob Dylan & The Byrds to Jackson Browne, Tom Petty, Bob Seger & Cat Stevens, Bill's style and what can be heard throughout 'Hard Road Home' "is best described as a hybrid of classic rock, American folk music and contemporary Americana". There are also excellent musicians backing Bill on the songs and they are: Roger Fife on bass, John Putnam on guitar, Sammy Merendino on drums, Matt Beck on guitar and Andrew Burton on organ/keys. The overall sound produced is rich, high-quality music that is easy on the ears.
As soon as you hit Play, the album starts up with the title track where right away you pick up on a catchy melody and distinct vocals. The wonderful melodies and clear-cut singing continues throughout the entirety of 'Hard Road Home'. The next song is "Still Running" that has the perfect pace and groove while track three, "The Point Of No Return", gives the listener a serious & sincere tone. You will be moving along to the beat of "Heart Of Stone" and then turn around and get hit with an innocent-sounding hook and a pleasant vibe on "Call My Name". Track six, "She's The One", is shining like a big, bright star that packs a heartfelt punch. One will sense that she truly is the one after taking in everything this song has to offer. Get ready to feel Bill Curreri's pain on "A Fool's Heart Crying", but it is all done in cool, rockin' fashion. Track eight, "If Only To Be Me", provides a glorious presence while "Finale: Love Gone Wrong/Walk With Me" proves to be a magnificent finish. This is what I like to call an ideal pairing where the two songs are intertwined just so where you sense a perfect match is made. By the end of the album, I can honestly say that 'Hard Road Home' is fully embraced to the highest regard.
The main theme behind 'Hard Road Home' is summed up beautifully by Bill Curreri: "I believe that as you travel down life's road and pursue your dreams and aspirations, the key to achieving true happiness is to have someone alongside you throughout the journey who will accept you for who you are, not for who you want and/or hoped to be… someone who will be a reliable and loving source of strength and happiness as you face those unavoidable and difficult challenges that life can sometimes throw at us." Bill Curreri is a real straight-shooter aiming straight for the heart and I'd have to say that he has a bullseye with these new recordings. 'Hard Road Home' has Bill Curreri taking the ultimate journey through life and his take on Americana music never sounded better!
By Jimmy Rae (https://www.twitter.com/2JRae)