We are back at it here for a fresh week of new music & artists @skopemag. Today we have hooked up with James Forier live & direct from Parkland, FL. James has kicked off 2020 with some fresh singles getting traction via his Soundcloud and at all popular online sites and stores. James Forier is an original singer/songwriter whose sound ranges from laid-back modern southern/country vibes, acoustic songs and grooves, to all out hard rock. Join us as we chat with James Forier about the new tunes, Coronavirus, living in FL as a musician, and so much more!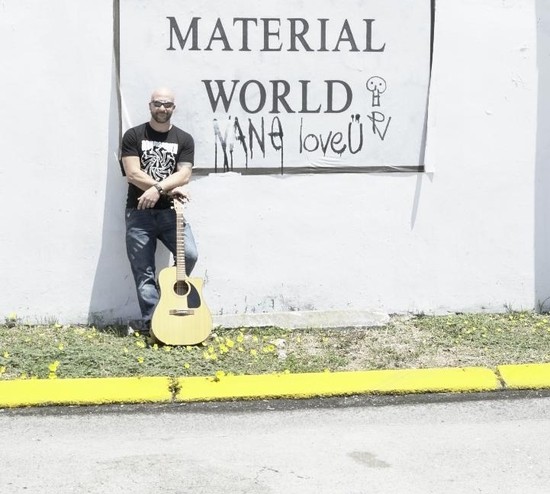 @skopemag: Where are we talking from today and how is 2020 going so far for you?
JF: I'm right next to Parkland, FL in Coconut Creek which is a very beautiful area. 2020 is starting out as a very promising year as my agent Gene Foley has secured several interviews and online/college radio airplay for me. I'm looking forward to a breakthrough year.
@skopemag: At what age did you take to music and was music always a part of life growing up?
JF: When I was in junior high, I used to skateboard after school with friends and then watch them jam out. They didn't have a bass player and said that if I could get a bass I was in the band. My mom scraped together enough money for Christmas to buy me one and I was in, even though I had absolutely no idea how to play! The Seattle scene was exploding with Nirvana, Alice in Chains, Soundgarden and others. That was it for me and I was hooked. I spent my high school years figuring out how to emulate my idols and taught myself to play music by listening to their songs over and over again until I figured out the secret language of music.
@skopemag: What are you looking to accomplish with your music career and do you use social media to spread the music?
JF My ultimate goal is to travel, make a living playing music, and get it out to the masses. I am not too active on social media but I do have an Instagram, Soundcloud, and Facebook. I focus more on working with my agent to secure opportunities and my website www.jamesforier.com.
@skopemag: You have been putting out some quality singles. What inspired you to get serious and start letting your music be heard?
JF: Thank you very much! I was inspired to get more serious again about my music from a burning desire within to never give up. I finished off some songs that had been sitting on the shelf and really wanted to get back into a professional studio and get them recorded. I'm very satisfied with the way "Cover Your Eyes" and "I've Been Here Before" came out. I recorded them on the West Coast of Florida in St. Petersburg at Big 3 Studios who've had a lot of famous clients.
@skopemag: How much time per week do you devote to creating & promoting your music?
JF: Not as much as I'd like to at this moment. I work a full time very demanding day job that takes up much of my time and energy. My wife and I also have our daughter Rhiannon to take care of who is 16 months old now.
Songs: https://soundcloud.com/jamesforier
@skopemag: Are you a one man band or do you work with other musicians?
JF: I am a one-man band. I sing the lead vocals and harmonies, guitars, and bass, and keyboards/synthesizers. I do play the drums but did not on my two new singles "Cover your Eyes" and I've Been Here Before". My sister-in-law Natalie Mustang-Courville is a professional drummer in a very popular Top 40 band NoFilter who are based on the West Coast of Florida near St. Petersburg. I'm only interested in playing with Natalie and I love her enthusiasm and creative energy. She and her band are great and I would love to play my songs with them someday.
@skopemag: You are based in sunny Florida. Do you get to play live locally and what is the scene like near you?
JF: I do not play live locally as there really is no original music scene. It's much like where I grew up on Long Island, NY where the cover bands and Top 40 bands rule the bars. Everyone goes out to drink, party, and sing along to the songs they know on the radio. There is no original music scene.
@skopemag: If you were to release a music video, which song would you choose and what would the visuals look like?
JF: I would do "Cover Your Eyes". The visuals I see would be a car full of friends going down a winding road hugging the beach on a beautiful sunny slightly breezy day. The friends are partying and having a great time as they arrive at a private house party and begin to party the night away. The partying gets a little overboard at times as it progresses deep into the night and the early hours of the morning. The bond is strong between these friends and when it gets out of control one by one the friends leave, fall asleep, etc. I would love to collaborate with someone on a video.
@skopemag: When you are not making music what other passions / hobbies do you enjoy?
JF: My passion in life is spending time with my family, especially my wife Stephanie and my daughter Rhiannon. We love to travel and our favorite place to go is the Smokey Mountains of Tennessee. We love the Pigeon Forge, Gatlinburg, Sevierville area and would love to own a vacation home there someday and retire in that area.
@skopemag: Are you at all concerned about the Coronavirus coming out of China as it begins to reach America?
JF: It's definitely concerning as are many things reaching all corners of America. I have not heard of any cases in Florida, so there is no worry about what I can't control.
@skopemag: What are you looking forward to and where can we follow you via online?
JF: I'm looking forward to the best year of my career in 2020. I'm looking forward to the publicity my agent has secured with magazines and radio interviews and airplay. I'm looking forward to getting my music out there and making something happen. Follow me on Instagram, Facebook, Soundcloud, and my website – jamesforier.com. Thanks so much for your time and for having me!!!