Dirt Track Racer is coming quick out of the gates with their latest release 'Something's Gotta Give'.  Referred to as "music to feed your mind and move your feet", I couldn't agree more with that sentiment.  Dirt Track Racer has created music that will make you stop and contemplate while also wanting to get down and dance.  This is the secret formula for Dirt Track Racer and it seems to be a winning one after listening to 'Something's Gotta Give'.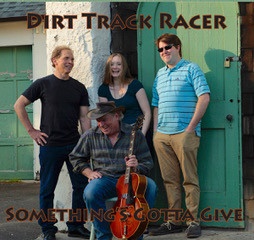 Dirt Track Racer is a four-piece band based out of PA on Twilight Tango Records.  The members include: chief songwriter Geoff Hansplant on vocals, guitar & mandolin, Julie Myers on vocals, violin, piano & B3, Paul Deck on drums & percussion and Nick Terramani on electric & upright bass.  Together, these musicians combine many elements from country, roots rock and blues to folk, jazz and even Latin influences.  The result is an amped up Americana sound that is refined yet light-hearted and that is Dirt Track Racer at the wheel!
The new album, 'Something's Gotta Give', features eight original recordings and four covers of folk and blues classics.  The title track offers the listener one engaging melody and just a fun-filled song overall.  Track two, "I Won't Be Here When You Get Home", supplies a sweet & subtle vocal tone from Julie Myers that immediately draws you in.  Get ready to shake it up on "He's In The Jailhouse Now (Eddie and Nellie Stafford)" with this crowd-pleasing jingle complete with enticing guitar pickin' and a barn-burning rhythm.  Next, prepare for a free-flowing, delicate breeze on "Things I Should Have Said" and then go slow & low in cool fashion on "The Name She Gave".  On song six, "One To Tango", Julie is simply in the zone here vocally singing up a storm and ready to dance a jig!  I also love the rhythm section on "Two To Tango" that is just jivin' along!  Next up is "Ghost in Midnight Blue" that showcases the mellow fella, Geoff Hansplant laying it down nicely with the band and having a frightfully good time.  Track 8, "What The Heart Wants", provides a loving sound that is inviting and I am embracing every inch of this number.  The following song, "All In Green Went My Love Riding", is a soothing instrumental and nice change of pace for Dirt Track Racer.  The entire band is truly hitting their stride on "All In Green Went My Love Riding" where I'm hearing top-notch playing and a wonderful arrangement.  Track 10, "Police Dog Blues (Blind Blake)", is barking up the right tree with this colorful song where you will want to take a big bite and consume this entire track.  Moving along, one will pick up on crystal clear singing from Julie that cuts right through the current on "The Water Is Wide (Trad. Arr. Dirt Track Racer)".  This song is making a huge splash and gliding along at the perfect pace.  We're heading south and ending on a high-spirited note on "Alabama Bound (Huddie Ledbetter)" that is one flavorful tune ready to take off!
Dirt Track Racer is off to the races with plenty of gas in the tank on the new record.  There is no sight of the finish line just yet as I feel these tight-knit Pennsylvania artists have many more years of music in them.  Featured tracks from 'Something's Gotta Give' are being played at radio stations across the United States, United Kingdom, Europe, Australia and even one station in Uruguay.  I'm happy to see people from all over the world are getting a taste of Dirt Track Racer because this band has a fantastic style and true heart.  The camaraderie is heard loud & clear as Dirt Track Racer accelerates through musical curves and wide-variety turns.  'Something's Gotta Give' is an excellent listen that will make you think fast and speed up, so READY…SET…GO!!!
http://www.geoffhansplant.com/
By Jimmy Rae (https://www.twitter.com/2JRae)