Robert Thies & Damjan Krajacic's "Blue Landscapes III: Frontiers is presented by a group that calls itself THE "mindfulness music leader" Real Music aka myndstream. This 'mindfulness' connection is important because it presents music as something more than mere easy listening stuff. Psychology Today calls mindfulness "a state of active, open attention to the present. This state encompasses observing one's thoughts and feelings without judging them as good or bad." Therefore, "Blue Landscapes III: Frontiers," is a means to an end. It is – simply put – music to help the listener focus better.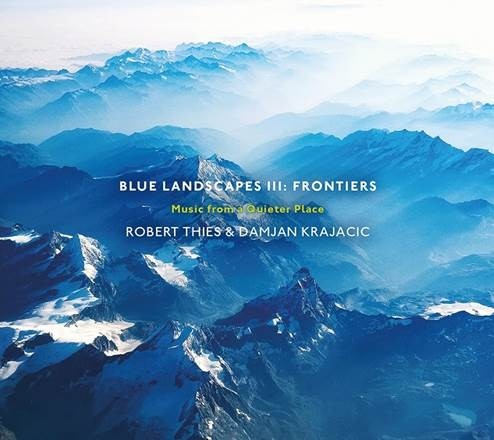 This duo is comprised of pianist Robert Thies and flutist Damjan Krajacic. Although the music is gentle and structured, it's taken from an album consisting of 15 fully improvisational tracks. This pair of musicians has already recorded multiple albums together, too.
In addition to this track's psychological inspirations and aspirations, these songs were influenced by a deep love for Earth's beauty. These visually stunning impressions were made by the planet's rivers, streams, mountains and seas, as well as its animals and forests.
Sonically, this track has a rhythm that owes much to traditional Chinese music. It's a plucking sound that drives it, rather, than any sort of traditional drumming. The piano and flute play off each other throughout, almost as if they're having a conversation with each other. Both the flute and piano sound like their expressing awe at the utter beauty of the planet, as well.
The recording's music video mixes nature scenes with performance video of Krajacic and Thies performing the piece together. These are all pretty, natural scenes, of course. When you look at this footage while the music plays, it's obvious how the music came together. It's impossible not to look at nature in all its majesty, and not be thoroughly amazed. The flowing water. The colored flowers. The deep green forest. All these scenes are breathtaking.
Although rhythmic, this piece is taken at a slow, deliberate pace. Just as one usually wants to take his/her time while exploring nature, this instrumental is in no particular hurry to reach its end. At 6:51, it's an especially long piece. It's as long, like many jazz recordings. Unlike traditional jazz forms, though, it's not a series of soloing sections, followed by a restatement of the melody, before soloing begins again. Instead, it's the sound of piano and flute meshing. Neither one ever tries to show the other one up. Instead, they're actually attempting to fit together and form one new whole. (Or at least that's how it sounds).
https://www.instagram.com/bluelandscapesmusic/
It's heartening to hear musicians truly collaborating like this. Yes, they're each talented players; however, they're not interested in proving their own worth with this instrumental. Instead, they're revealing just how beautiful it is to put flute music and piano music together. And yes, it is relaxing. Also, it likely will help you focus, if you require musical accompaniment for that purpose. Even if you don't need music to be so functional, though, this piece is as aurally beautiful as is the great outdoors. Unlike so much modern music, which requires studio gimmickry, just to keep modern ears tuned in, this recording reveals how enjoyable it is to hear just two masterful musicians at work.
-Dan MacIntosh