If you really want to learn about a rock band, film them and run the footage back in slow motion. You'll see everything: the relationships between the members, the commitment of the players, the guitarists' chops and dexterity on the fretboard, the drummer's precision, the frontman's confidence at center stage. It'll all be there: nothing escapes the observation of the camera when the footage slows to a crawl. It's a bold band that would be willing to release a slo-mo video – but boldness has always characterized Hollis Brown. They're not boastful, but they do swagger, and as the "Go For It" clip demonstrates, they've got the skills to back up their confidence.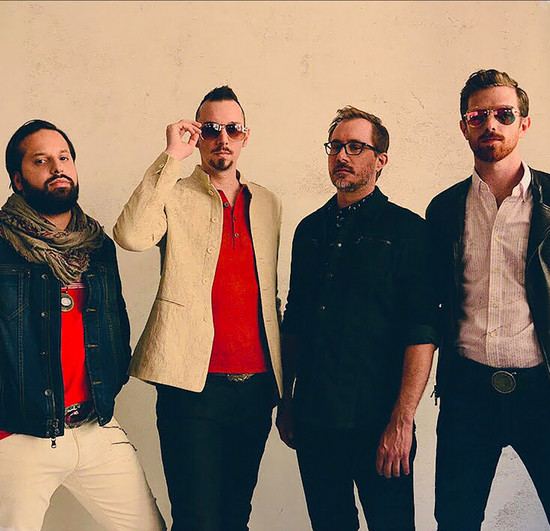 "Go For It," the latest single from Ozone Park, is a slinky funk-rock number with an instantly memorable singalong chorus – exactly the sort of song that requires a band to lock in, play with empathy and precision, build tension, and then let it loose. Director Michele Canevari's super-slo-mo clip for "Go For It" captures the members of Hollis Brown in the midst of doing what they do best: tearing through a rock song with joy, total commitment, and maybe a little savagery, too. Every vibrating bass string, drumstick swing, and bead of sweat on the faces of these musicians is picked up by Canevari's lens, and every little detail amplifies the drama and intensity of the song. By the end of the video's three-plus minute running time, you'll feel like you know these guys personally.
"Go For It" follows "Do Me Right," the first Ozone Park single, and a sleek and modern slice of gleaming indie rock. That record earned the band praise and press notice from Rolling Stone, Billboard, and Paste, and other top-tier outlets. The new one is certainly no antique, but the band's devotion to the classic sound of FM radio is boldly exposed here. Picking up on the vintage '70s cop-show aesthetic that the funky rhythm track implies, Canevari has threaded shots of a convenience store stick-up into the video. Naturally, the heist and the getaway happen in slow-motion, too. He's even added some Cooper Bold titles in Nixon-era orange-yellow to make the clip look like an old television program. Yet the scene is grounded in the present: the thieves' fashions and jewelry are 2020 to the core, and Canevari turns a balaclava-wearing breakdancer loose on the floor to spin and twirl to Hollis Brown's steady beats.