What many individuals don't perceive is that leather can take form of or fit into not only your upholstery, but also cover your wall coverings and flooring. Acoustic absorption and ingrained flame retardant are among the many benefits leather renders to interior spaces.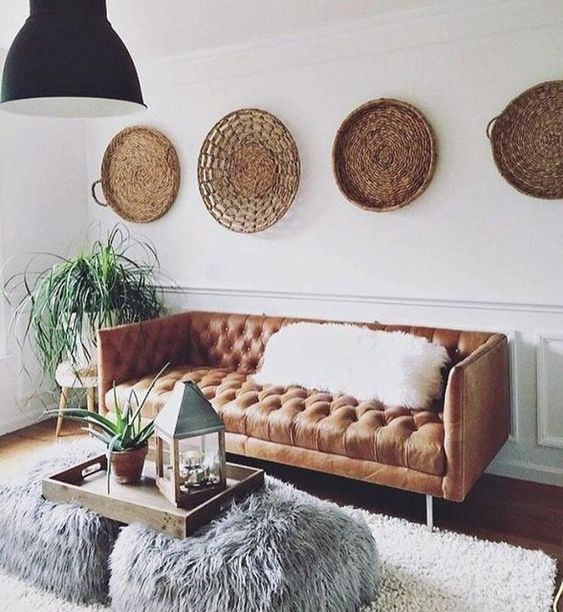 You can use leather for home décor in office spaces, homes, hotels, boutiques, galleries, commercial buildings, and museums.
There are endless possibilities and potential for this natural finish component/material.
It's long-lasting and durable. Leather can outlast and outperform the sturdiest fabrics.
It can remain tough even under exposure to heat, sun, and years of fatigue.
Simultaneously, leathers become more soft and supple with time, developing a character, which makes it a very prudent investment.
Leather is flexible and versatile. Both faux and real leather come in numerous forms, colors, and shapes, which makes them easy to infuse into any installation or home décor style.
You can find leather as a finish material in countertops, chairs, floor tiles, wall coverings, and even headboards.
You need to know that a magnetic floor tiling installation creates a whole new range of possibilities for office and home.
Many builders give a magnetic support to leather and comply with a metal substrate instead of integrating conventional adhesive installation methods.
Not only does this allow you to change your floor plan with a brand-new color scheme or arrangement, but it also makes surface and subfloor maintenance/repairs in office cost-effective and easy.
Leather requires very little maintenance and is great for environmental sustainability.
The aesthetic experience is very holistic as well. Depending on how you use it, leather can add either a masculine or feminine charm to a space, a timeless aesthetic or modern sleekness.
The foxy faux leather
Faux leather is always in vogue due to its texture. Designers are fond of it and use it for home décor. This leather can fit a rustic, industrial, boho, masculine or just modern interiors.
Leather furniture is very popular. It adds a chick and urban touch to your space.
A leather sofa in dark brown, rich brown, burgundy, black, white, or dark green can infuse textural essence to your living room.
A leather-upholstered rack and bed makes a statement in an industrial, masculine or Scandinavian bedroom. The colors are your choice.
A leather armchair or chair with a floor lamp can create a stylish reading corner.
Leather poufs and ottomans are a brilliant addition to your property, both indoor and outdoor.
You need to vary the looks, texture, and colors of the furniture to enhance the fittings.
You can also use leather on your appliances and put dedicated grill covers on specific appliances.
A modern beige leather chair on classic metal floor lamp and metal legs make an excellent reading space.
In a nutshell
Just as fashion, décor too has a huge space for leather. It can make the whole room look off and unbalanced if you don't put the right material at the right place. You can make leather a single focal point of your room, which could be a couch or headcover.
A few subtle and different accents in a space, including ottomans and pillows really work better.