I had the pleasure to review Sophie Dorsten's single, "Roses", last year and knew that I had come across a one-of-a-kind artist, (http://mi2n.com/press.php3?press_nb=207319).  This Phoenix-based singer/songwriter may be a teenager still in high school, but Sophie sings and performs like a seasoned pro.  Sophie Dorsten is a true talent with star potential and you will see why after listening to her latest single, "Growing".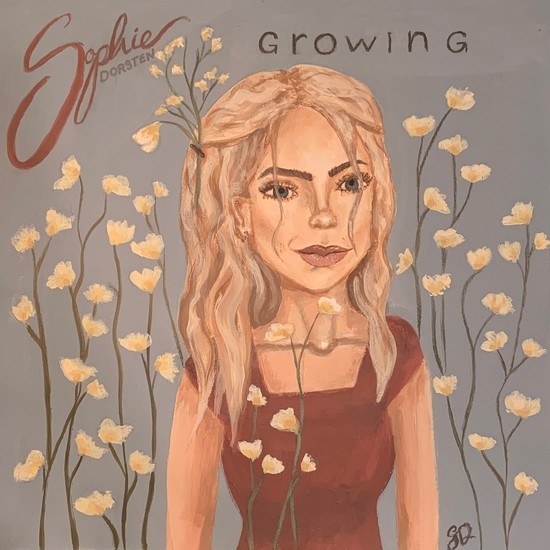 Dorsten's new song is dedicated to her mother, but also to anyone that has someone very special in their life.  The track is all about love and how one's love for another person can withstand anything in this life.  This Indie/Folk songstress has created a song that is extremely moving and meaningful.  You can sense that Sophie is singing straight from the heart on "Growing" with a touching tribute to her mom that can relate to so many people out there.  The listener will pick up on a warming & comforting sensation just as a mother would console her daughter.  I am simply blown away by Sophie's strong and powerful vocal performance on this song.  Sophie Dorsten has got pipes and she is not afraid to use them as she proves she can sing with the best of them!  "Growing" also contains a wonderful melody that will pull you right in and not let go.  One will hear big, bright notes coming from Sophie as this young songbird will captivate you with her amazing voice alone.
Sophie has been singing & performing since she was 9 years old and I see no slowing down for the young artist.  With three EP's already under her belt, I can't wait to hear more from this powerhouse singer and genuine songwriter.  Lyrically, musically and vocally, Sophie has got it all and then some!  Sophie Dorsten is still "Growing" but she has already blossomed into a fine-tuned & polished singer/songwriter.  With endless potential for this special talent, I look forward to hearing more, high-quality recordings from the Arizona native.  I'd also like to add that the appealing cover was actually painted by Sophie herself proving that she also has a knack for art as well.  The song is "Growing" on me and Sophie Dorsten is "Growing" into a giant, musical force that is ready to burst onto the scene!
By Jimmy Rae (https://twitter.com/2JRae)
https://sophiedorstenmusic.com/
https://www.facebook.com/sophiedorstenmusic
http://instagram.com/sophiedorstenmusic
https://open.spotify.com/artist/5CdWY3kUKjlO7gDpdW2JXR