In their new single "#2020," family band Avni Vir Vineet blend surreal pop with sleek R&B grooves to conceive a bittersweet slow jam as indebted to Caribbean swing as it is a traditional Indian melodicism becoming increasingly popular among western listeners. "#2020," as its name implies, is an anthem of peace and togetherness created in celebration of the New Year, and despite its somewhat formulaic lyrical structure, its verses are delivered in such a warm, soothing vocal that they express as much to us through raw tonality as they do through actual poetic substance (which, truth be told, is hard for any artist to pull off, regardless of the genre we're discussing). Avni Vir Vineet break out the big guns for this track, and their dedication to the medium makes it all the more intriguing a listen for audiophiles everywhere.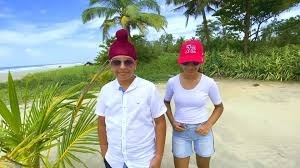 I really love the beat here, and while it's a pretty conventional reggae-inspired rhythm, it doesn't sound as though it's been directly recycled from any one particular source. This isn't a group that strikes me as being specifically concerned with achieving a sound aligned with some larger movement in pop music today; in fact, I get the impression that they're trying to distinguish themselves and their sound from the rest by not doing what the competition is. There's a little bit of a resemblance to their peers, both domestically and abroad, but at the same time, there's no mistaking the chic aestheticization of colorful harmonies that they're utilizing here with someone else's style at all.
Lyrically speaking, there's a strong kinship between the cadence of the verses in "#2020" and midcentury R&B that is undeniable, but other than this, the entire structure of the chorus is as modern and progressive as it gets in the pop genre. I would have liked a slightly more elaborate buildup to the cathartic release that the hook brings, but honestly, it's not a big enough issue for me to dismiss the other angles in this song as being too weak to satisfy both casual listeners and hardcore pop fans alike. For being relatively new on the scene, Avni Vir Vineet sure aren't acting like rookies in this single; contrarily, they're translating like a trio of players who know exactly what they want their sound to be.
I-HEART RADIO: https://www.iheart.com/artist/avni-vir-vineet-33656420/songs/2020-84538041/?autoplay=true
I wasn't familiar with this family before, but "#2020" has more than captured my interest in Avni Vir Vineet moving forward, and I plan on keeping tabs on whatever they release in this new decade without question. There's a certain novel quality to their story – a father and his twins dispatching kindred harmonies appealing to anyone on the planet who enjoys pop swing – but I wouldn't suggest that they're future is going to be defined by it. In reality, they're arriving at a time that is seeing a lot of interest move towards the style of play they call their own, and in this industry, that isn't just a rare occurrence; in all actuality (and more often than not), it just doesn't happen.
Gwen Waggoner