It used to be that the only way to enjoy casino games was to head to a dank, smoky brick-and-mortar gambling house. But today, the casino scene is completely different. Land-based casinos have become brighter, cleaner and more welcoming, while the rise of the online casino has meant that many people who may not fancy gambling in a brick-and-mortar establishment can play their favourite games on their computer or phone instead.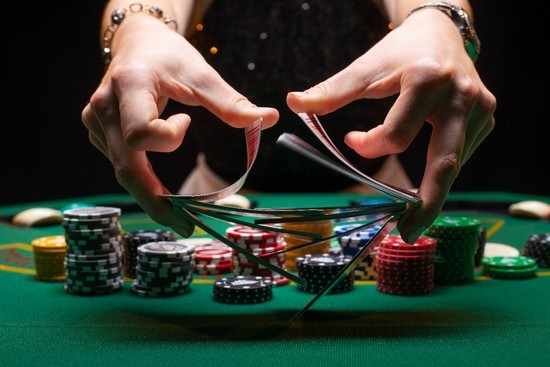 The growth and development of the casino industry has caused games like Roulette, Poker and Blackjack to become increasingly popular. There are more ways than ever before to play these games, and all of them have grown and adapted with the passing of time. Let's take a look at how online and brick-and-mortar casinos have been modernised.
Online casinos
Nowadays, all our favourite casino games are available to play with a few clicks on our computer or a few taps on our mobile phone screens. The advent of the internet has led to exciting developments in the casino industry, with online games becoming more and more prevalent as technology has advanced. This has meant that games like Blackjack and Roulette have become available to play in virtual format, with randomisation software ensuring fair outcomes.
The casino's expansion into the online world has also led to the growth of live Poker, where you can log on and compete with other online players from all over the world. This means that the classic card game can be enjoyed from the comfort of your own home – perfect for those who live in more remote areas where a trip to a brick-and-mortar casino isn't practical.
The limitless nature of the internet means that online casinos can offer countless different games, from casino classics to more quirky options like Slots based on movies, game shows or sports. The ease of accessibility offered by online casinos means that everyone can take part, whether you're a casino nut or a more casual player. There's something for everyone.
Brick-and-mortar experience
Of course, the traditional experience of going to a land-based casino is still very much a popular option for gamers. Brick-and-mortar casinos have also embraced the modern age with better facilities, modern gaming equipment, and a wider variety of themed slot machines – all while maintaining the classic feel of visiting the casino.
Lots of casinos will have sports books in addition to the classic games available to play, and these will be filled with giant HD televisions, allowing you to soak up all the sporting action while enjoying a little flutter on the outcome. Gone are the days of crowding round the radio to hear the latest racing results, now you can enjoy all the sporting action in the most modern way.
While Las Vegas remains the spiritual home of the brick-and-mortar casino experience, other countries and cities around the world are beginning to catch up by offering top class modern casino resorts. Macau is one example, with the city now boasting dozens of state-of-the-art casinos meaning that there are plenty of options if you're planning a casino vacation.
—
The casino industry has come a long way over the past few decades, and with technology still advancing and new sciences being discovered all the time, who knows what the casino scene will look like a few decades from now.