Time for Love, the latest record from bluegrass singer Donna Ulisse, kicks off with an upbeat swing in the opening bars of "When I Go All Bluegrass on You," and through the next few minutes of unquestionably contagious grooving, it's hard to focus on anything other than the relationship between the verse and the adjacent beat. Ulisse brings her A-game to this first shot of melodic moonshine, and though the tempo slows down a bit for the balladry of "Heart of Rosine," the enticing warmth in her vocal doesn't disappear from the record – if anything, it's just getting started by the time we're taking in the swaying strings of "My Whole World is Standing Still" and its swaggering epilogue "When We've Got Time for Love."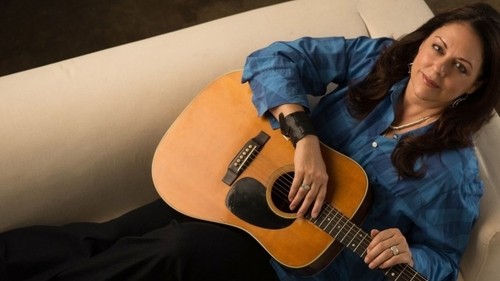 URL: http://donnaulisse.com/bio/
At just over four minutes, "Come to Jesus Moment" is the longest song on Time for Love, but it doesn't disrupt the flow of the tracklist with its larger than life harmony. This composition shifts us into a gospel-inspired direction that will be revisited later on in the tracklist, and while "Seven Lonely Days" is built around a heavily contrasting structure of grooves and melody, the two are very much the yin and yang of Ulisse's current sound. "Got on Home Boy" is a country song wrapped up in a sophisticated arrangement of bluegrass beats that sets us up for the elegiac "A Little Less Gone" like nothing else could have, and despite the use of some familiar thematic elements, neither of these tracks sound like anything other than true Donna Ulisse originals.
"Hi Lonesome" lets a little more of that trademark swing into the big picture before clearing out some room for the ultimate crown jewel of Time for Love, the bluegrass anthem "Red Top Mountain Road." "I'm Not Afraid" might be the most breathtakingly personal song on this LP, but if it's passionate rhythm that you're after, "Red Top Mountain Road" is everything that a bluegrass connoisseur could ask for and more out of a short jam session. The pop-friendly "Magazine Rack" and lovers' tune "I'll Never Find Another You" round out the album on a powerfully dramatic note, but for as incredible a conclusion as we hear in Time for Love, it's difficult to say whether or not it trumps the first group of songs found at the start.
APPLE MUSIC: https://music.apple.com/us/album/time-for-love/1480314375
Donna Ulisse shines like the homegrown bluegrass star she always has been in her most recent release, and though I was anticipating a lot out of its thirteen songs, I'm pleased to say that I did not walk away even somewhat disappointed in what I heard here. Time for Love is a breakdown of the odyssey that Ulisse has been on since her very first recordings, and if it's any indication as to what we can expect out of her in the future, it can be confirmed that this is by no means her swan song. She's in this game for the long haul, and provided she keeps singing as well as she is in this album, she's going to keep scoring points with critics like myself.
Gwen Waggoner